At just seven-years-old Caeden Thomson, who has cerebral palsy, has climbed the highest mountain in the UK to raise more than £16,000 for different causes. We speak to Caeden's mum, Lisa, about their climb up Ben Nevis and her pride in her son.
Now seven, Caeden was born 12 weeks premature and had two bleeds on his brain, something which came as a shock to his family.
"Since he was born he has seen so many health specialists who have helped to make him who he has become today," explains Lisa Thomson, Caeden's mum. "Without our NHS and all the other people that help Caeden and people like charities, Caeden definitely wouldn't be who he is today."
Giving back
Caeden might be young, but he already understands how much support he has received and was determined to give back in any way he could.
"Because he appreciates everything he's had and we've seen such an improvement in him, he thinks that everyone should have that and that they will all improve," explains Lisa.
"I have to try and explain to him that not everybody can be helped in the way that he can be helped, but he still wanted to give back and help as much as he can."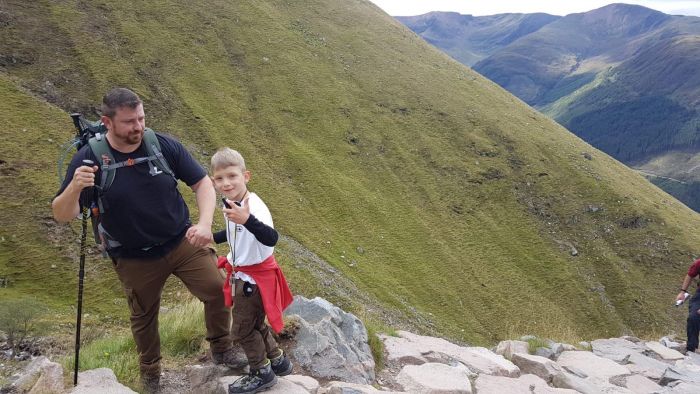 After having a family discussion with his parents and two older siblings, Caeden wanted to raise money for the people that have helped him, Lisa says: "We knew it would need to be a physical challenge with his disability being physical and so why not aim for the highest mountain in the UK.
"Now that I say it I kind of think that we're crazy because it is definitely isn't as easy as it's made out to be."
The summit of Ben Nevis is a massive 1,345 metres above sea level.
The Thomson family started preparing to climb Ben Nevis in May 2020, but due to the coronavirus pandemic their preparations and plans were put on hold.
"That was really hard because of Caeden's disability, we have to keep him moving around and being in lockdown, just walking up the stairs or around the garden, it isn't enough," emphasises Lisa.
"About a year ago we planned the walk and we were thinking we're doing really good, going on six-mile forest walks, going up and down tree stumps and things like that, and none of that compares to Ben Nevis, it's just something else."
The family has always loved the outdoors and camping, so Ben Nevis seemed like the perfect fit, although the idea was daunting when they first arrived at their campsite.
"We stayed in the Glen Nevis campsite, I think looking up for the first 24 hours and seeing what was ahead of him was quite a shock because he started saying 'I don't know if I can do it'," recalls Lisa. "But, after we did it he's had two days of looking up and saying 'look, I did that' which is such a proud moment.
"There's no words to describe how elated I feel and how happy and proud of him I feel; proud isn't even good enough."
Challenge
The family prepared as much as possible in the lead up to their climb, but it was more challenging than they could have imagined.
Setting off at 9am on 29 August, reaching the summit at around 5:30pm before heading back down the mountain and finishing their descent five hours later. 
"At the beginning it was a family effort, the enthusiasm and excitement behind everybody was so good, but by the time we were getting to the top Caeden had gone very pale and very, very stiff because of the temperature drop," remembers Lisa.
"I burst into tears because I was just very, very proud of him and what he had achieved."
Caeden completed the climb himself, fitting in a well-deserved air punch when he reached the summit and found out he had hit his fundraising target of £8,000.
"He was jumping up in the air with his fist up, looking at the sky going 'yay, I did it, 100 per cent'," reveals Lisa. "When he saw that we achieved it then it just kept going on and on and on and we just couldn't believe it."
Once the fundraising target was reached, people didn't stop donating and soon the money raised doubled to more than £16,000.
"I remember thinking eight thousand is a very small amount to ask for people to be donating for someone like Caeden walking up this mountain and now it's doubled it's just amazing," exclaims Lisa.
Support
These donations and the outpouring of support has kept a smile on Lisa and Caeden's faces after their climb, with new comments still being made.
"The comments that are coming through are so amazing and I try to read them all to Caeden as they come through but I've had to stop at the moment because there's so many, it's very overwhelming," says Lisa.
"I'm planning on making him a scrapbook of everything together because it's a big memory for him."
The huge amount of money raised through Caeden's efforts will go on to support three causes: the NHS Children's Services that have helped Caeden throughout his life; the physiotherapy department he attends; and disability charity Scope.
"The hospital Caeden gets his Botox from needed an ultrasound machine and we did a fundraising event where they managed to get the money for a piece of equipment, but they still needed an iPad to make that work correctly.
"We wanted to provide them with that iPad and a couple of other little bits in the children's ward," explains Lisa. "Some of it is going to his physiotherapy department and the rest to Scope.
"It's not just people with Cerebral Palsy that Scope are helping, it's a huge variety of disabilities so I think the more that's there, the more that people can be helped by it."
As the money donated continues to rise, Lisa is also happy that Caeden and his siblings get to share the memory of climbing Ben Nevis together, she says: "When we reached the top we all just did a big family cuddle, we didn't even say a word, we just squeezed each other.
"At the top there's no sound, it's very eerie so just standing there and having that moment was amazing."
Next steps
Now that Caeden has bagged Ben Nevis there's no stopping his fundraising efforts.
"People have already asked us what can Caeden do next, so we'll see, there could be multiple challenges upcoming," teases Lisa. "If Caeden is someone who is empowering and inspiring others then I want that to continue, he's happy for that to continue.
"He's excited to do something else but says he's never climbing Ben Nevis again; the next time might not be so steep however it will still be something physical."
By doing physical challenges Caeden is not only helping others, it is good for his health, too.
"We were expecting him to be in pain and actually he's just been bouncing," reveals Lisa. "On Monday (31 August) we went to the High Falls and he said 'Daddy I feel like a new man, you're a hero because I feel like I've got a new life', so clearly he feels like he's in a good state physically from it and we just are so proud of him."
At the time of publishing Caeden has raised more than £16,000 for his three causes. You can find out more about Caeden's story and his climb up Ben Nevis here.
Never miss the latest stories from the disability community, follow us on social media: Twitter, Facebook or Instagram.