Technology has never been more essential for education, professional and personal development. Working to eradicate barriers to technology children and young people with visual impairments face, Guide Dogs is set to release a pioneering pilot.
Through responses from families, children and young people across the UK and Northern Ireland, charity Guide Dogs discovered the different barriers and needs faced by those growing up with a visual impairment.
The overarching feedback was the need for assistive technology.
In a bid to provide accessible and assistive technology to all children and young people, Guide Dogs is set to pilot a new scheme, Tech for All.
PRODUCTS
Set to run initially for six months, Tech for All will provide a free iPad or iPhone for any child living in the UK or Northern Ireland with a visual impairment. The pilot is set to open doors to autonomy for future generations.
"Alongside technology, children and young people will get a full digital learning programme to make sure users get the most out of the device," enthuses Emma.
Pre-primary and primary school aged children will be offered an iPad, with secondary aged young people and older having the option of an iPad or iPhone.
With those aged three to 18-years-old eligible for the pilot, safeguarding has been a cornerstone in Tech for All, which is why the digital learning programme is vital.
"Plus, the programme will show how to get voice-over technology, before going into some of the apps we recommend people download such as Seeing AI"
Most importantly, Tech for All is set to revolutionise how children and young people act in their daily lives.
CONFIDENCE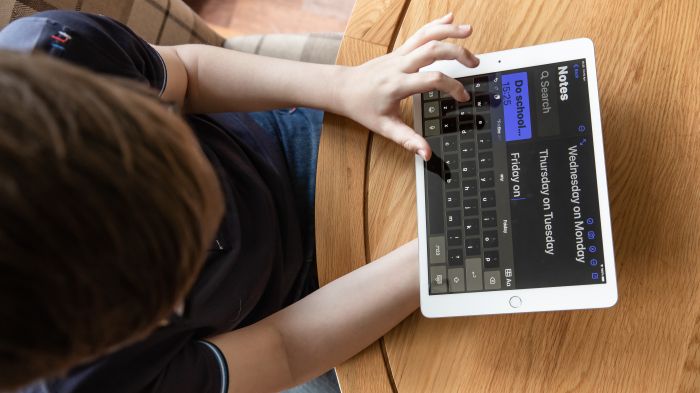 One user of Tech for All, Will has already reaped the rewards of getting his own iPad. Emma enthuses: "Will has told us about how the iPad has been great for his independence. What Will loves the most is being able to connect with friends and family using FaceTime."
Getting involved with Tech for All is easy, with application forms taking less than 10-minutes to complete.
Guide Dogs knows the importance of assistive technology and working to ensure all children, young people and adults have access to their wide range of services for an independent life.
We do a lot more than dogs – not that the dogs aren't wonderful, life changing and fantastic – we have a range of services. In particular, Guide Dogs is the largest provider of services for children and young people with a visual impairment."
Learn more about Tech for All by visiting the Guide Dogs website. Guide Dogs also has a Guide Line you can call on 0800 781 1444 or email the team.