There is no escaping football at the moment, and now the ball is set to score a spotlight on accessible football with a new documentary Para Football Adventures.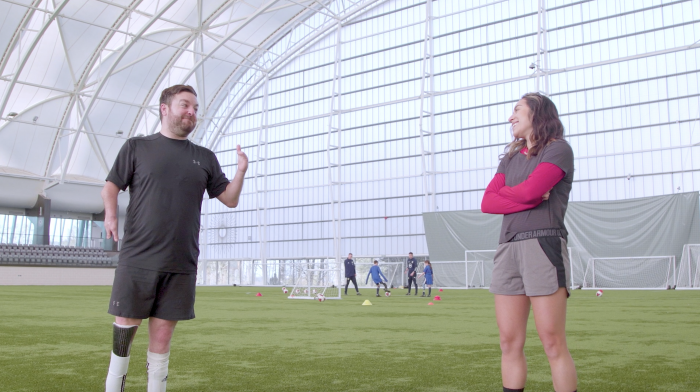 Starting tomorrow (10 July) on BT Sport 1 at 6:30pm the Para Football Adventures will go to all the home nations meeting different teams with a range of disabilities.
SCORE
Presented by Alex Brooker, co-host of Channel 4's The Last Leg, and musician and Merseyrail FC striker Chelcee Grimes, the series will see the pair visit different teams across England, Scotland, Wales and Northern Ireland, exploring the state of play of various disability football disciplines, and having at go themselves in the process.
All five episodes of the series will debut this Saturday at 6:30pm on BT Sport 1, with the individual shorts airing in the week leading up to the FA Disability Cup.
ADAPTED
Each episode of Para Football Adventures will shine a light on different adaptations of the beautiful game.
Meeting the CP England Football Team and speaking to players Giles Moore and Harry Baker, to learning the rules of Deaf Futsal in Wales and discovering the issues around communication within the game or discovering the rise in amputee football in Scotland to the exhilarating game of powerchair football which saw Northern Ireland qualifying for the 2022 Powerchair World Cup in Australia, in just five years: Para Football Adventures has it all.
Alongside bringing different versions of football to the masses, BT Sport is definitely helping to welcome even more people to a new vision of football.
ACCESS
We recently revealed that BT Sport will be the first live broadcaster of the 2021 FA Disability Cup.
Now in its fifth year, the five cup finals will kick off on the weekend of 17 and 18 July and is delivered by The FA in partnership with a range of impairment-specific organisations.
You can watch all five games as part of the FA Disability Cup via BT Sport's website (btsport.com), its App for mobiles, tablets, smart TVs, media adapters and games consoles, plus, its Facebook channel (facebook.com/btsport). Highlights coverage will also be available on Channel 4, on 25 July, with details announced soon.
Following us on Twitter, Facebook or Instagram to stay up to date with the next stages of the FA Disability Cup and BT Sport coverage.