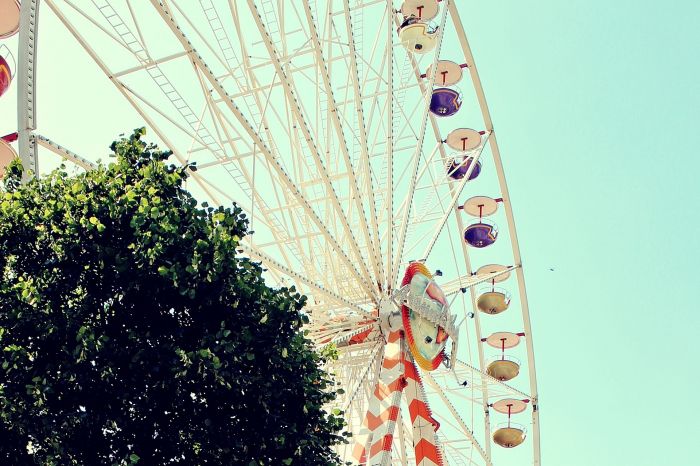 The UK is home to dozens of theme parks offering fun days out. Accessing attractions can be a challenge for people with disabilities, but parks have plans in place to make it easier.
Before you go
Check the park's website for their disability guide, which will tell you about their individual policies, or phone their customer services team. Carrie-Ann Lightley from the disability charity Tourism for All says, "Always contact the theme park in advance to check concession prices, complimentary admission for assistants and fast track policies for disabled visitors."
Getting there
Theme parks usually provide blue badge parking spaces near the entrance to save you having to make the long journey across the car park. If you're using public transport, such as a park-run shuttle bus from a nearby train station, be aware that some may have steps, so contact the park or transport provider first. Transport to and from the park can be very popular and crowded, so bear this in mind when planning your trip.
Entrance prices
Many parks provide a concessionary carer ticket or reduced entry price to disabled guests. You are usually required to bring proof of disability to get this. Parks have different requirements, but often proof of disability includes a letter from the DWP saying you receive higher/enhanced rate DLA or PIP, or a doctor's letter. Check with the park before visiting, giving yourself plenty of time to get hold of the necessary evidence. It is also often the case that you can get a reduced rate or a free carer pass if you buy an annual pass to the attraction.
Passes are well worth getting if you plan to visit more than a few times a year, and often give you discounts on onsite food, drink, retail and hotel stays with the park.
Accessing rides
You may be able to get a pass or wristband, usually issued by the park's guest services team, which allows you and those you visit with to access rides through a separate entrance to the main queue line. Having a disability doesn't automatically entitle you to this scheme. It's for those who are unable to use the main queue, such as wheelchair users, and is only available if you can provide evidence. Again, check with the individual park what proof they require.
The Merlin-owned Thorpe Park, Alton Towers and Chessington World of Adventures operate a Ride Access Pass, where eligible disabled guests are given a pass and a wristband. Entering an attraction via the disabled access route, you hand your pass to a member of the ride team who mark it with the time you can go on your next ride – for example, in half an hour's time.
The time you are given reflects the ride's main queue length. The staff will let you on the ride as soon as possible, then you have to wait until the time specified on the pass before riding another attraction. Having a pass doesn't necessarily get you onto a ride straight away. You may have to queue with others who are using the scheme, and ride staff won't allow two disabled guests to ride at the same time.
Some rides aren't accessible for everyone, even when using the disabled entrance. Individual rides can have health and safety requirements, such as the ability to brace, or to be able to walk a certain distance unaided in case of evacuation. Some attractions, particularly indoor rides, may have strobe lighting. A lot of rides are unsuitable for guests with back problems, pregnant women, and those who have recently had surgery. Some parks provide information on individual ride accessibility on their websites, in their disability access guides, at guest services, or on a sign by the ride entrance. It's also worth, where possible, watching a ride in motion before you decide whether or not to go on it.
A few rollercoasters have an example seat at the ride entrance. It is worth trying these out as it allows you to see whether or not you would be able to climb into the seat.
Getting around
Theme parks can be spread out across a wide area, with different themed areas to travel between. "Theme park visits can be a challenge for disabled people, but with a little forward planning everyone can still enjoy a great day out," says Carrie-Ann.
"Be sure to check the terrain and distances that will be covered. Many people who don't use a wheelchair or mobility scooter in day to day life may benefit from using one at a theme park, as there is usually a lot of ground to cover and energies are best saved for the fun parts! Most parks now have the facility for visitors to borrow mobility equipment, or it can be hired from a local Shopmobility or similar."
You may be able to find a map on the park's website or request one when you enter, which is useful for planning your day effectively. The map is helpful for finding accessible toilets and quieter rest areas if you need to take a break from what can be for some an over stimulating environment.
"Theme parks should make reasonable adjustments for visitors with sight loss," explains the charity Guide Dogs. "For example, by providing information in alternative formats or a safe place with suitable facilities, such as provision of a water bowl and appropriate access to a toileting area for guide dogs. We'd encourage calling the park ahead of visits to discuss requirements and individuals can talk to us at any time."
Food and drink
Visiting a theme park is fun but exhausting so you'll need to give yourself time to refuel. A few parks, such as Blackpool Pleasure Beach, do not allow outside food to be brought past the entrance, unless you have medical or dietary requirements for which you must tell a park ambassador on entering. Some parks list eateries on their website with menus available to help you plan.
Understandably, park cafes and restaurants can get very busy at peak times and you may have to wait for a table, so keep this in mind when planning your day. Some, such as the Rollercoaster Restaurant at Alton Towers and The Grill Inn at Drayton Manor (located just outside the park gates – you can get your hand stamped for re-entry) allow you to book a table in advance.
It can be a bit of a pain, but a bit of planning ahead can make sure you get the most out of your day.
Are you following us on Twitter for all the latest?