A mother of two who was left with a serious spinal injury following a rugby accident has spoken of her delight about regaining her independence after having a home lift installed from Stiltz.
During a match for Reading-based Rams RFC in 2017, Dani Watts from Wokingham, Berkshire experienced a T10 spinal injury, losing the use of her legs.
The former police officer and personal trainer spent six months in hospital and now uses a manual wheelchair.
Longing
After losing the ability to carry out normal everyday tasks for her family, Dani longed to get her independence and a sense of normality back. 
Married and with two children to take care of, Lillie-Rose who is nine and Freddie who is seven, along with a flourishing career, the 31-year-old was used to a full and hectic lifestyle. As well as the physical impact, to go upstairs Dani has to call upon her husband, Pete to give her a piggyback each time.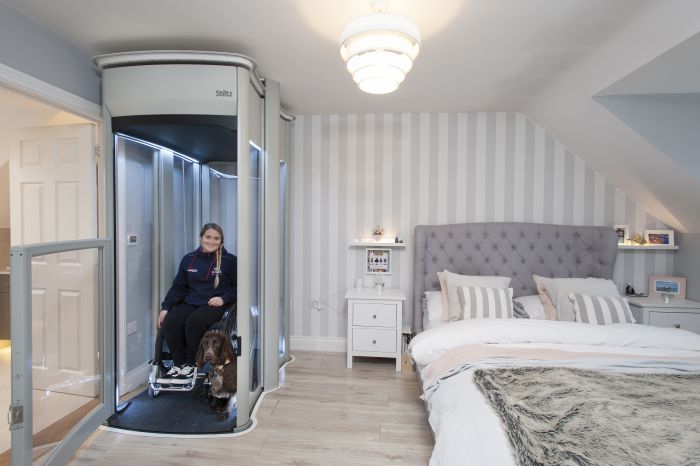 As someone used to such an active lifestyle, this was particularly undignified to Dani. Feeling like 'a burden' was impacting on her overall wellbeing, Dani became increasingly desperate to regain a level of independence at home. In addition, she was concerned about the impact her care was having on her family.
Thanks to some extensive fundraising efforts from the RFU Injured Players Foundation and friends, Dani and her family were recently able to buy a new home and have it adapted with the very latest equipment to suit her needs, including a stylish Stiltz disabled lift.
Instrumental
The domestic lift proved instrumental in Dani regaining her independence at home as she was now able to move from floor to floor unaided whenever she wanted. Dani and her family chose the Stiltz Trio+ Lift by disabled access lift specialist Stiltz due to its sleek and contemporary appearance, as well as its ease to install and run. 
The lift was installed to travel from dining room to master bedroom and as Dani explains, it has given the whole family greater independence, she says: "I don't know what I would do without the lift.
"Independence is such a fundamental need, no one should feel like a burden to anyone else. Not only that, it's added value to the house.
"I can go to bed when I like, have a bath when I like… my independence is my life and that's what my Stiltz Home Lift has given me," adds Dani. "Now I can carry out normal tasks like taking the washing upstairs, the kids use the domestic lift to move the vacuum, we fill it with presents on our children's birthdays and our dog Bailey loves it.
"I can now do the 'normal' things anyone would do with their family."
To find out more about how Stiltz could help you regain your independence click here.