Learning disability charity Mencap has announced 18 Myth Busters: a group of people who are living life with a learning disability, challenging misconceptions and providing greater representation for the 1.5 million people with a learning disability in the UK.
Mencap, the learning disability charity, has announced 18 new ambassadors from the learning disability community. This group, called The Myth Busters, will work to challenge stigmas and societal misconceptions about what living life with a learning disability looks like.
Perceptions
The announcement comes after last year Mencap released statistics which revealed that two thirds of people int he UK cannot correctly identify a learning disability as a reduced intellectual ability. The finings shows that 40 per cent of people think it's dyslexia and 28 per cent believed it related to a mental health issue. The survey also revealed that two in five people had not seen someone with a learning disability in the media in the last year.
It is hoped that this new group of ambassadors will change these perceptions in the media and in wider society.
The Myth Busters, who are all living with a learning disability, demonstrate how unique learning disability is and that everyone in this community deserves to be heard and seen. The newly announced team includes Michael Beynon – the first man in Wales with Down's syndrome to run a marathon, who also set-up his own successful business producing the best Welsh cakes in the country; Sophie Potter – a self-identified party girl who loves Sex and the City and going dancing on nights out with her sister; and Ellie Goldstein – face of Gucci and Glamour Magazine's Gamechanging Model of the Year.
Alongside them are celebrities like George Webster who recently became CBeebies first children's TV presenter with Down's syndrome, BAFTA award-winning actor Tommy Jessop and actor Sarah Gordy OBE.
Messages
The group are now sharing their messages on why they feel passionate about being a Myth Buster:
Freddie Latham, runner: "I think people with a learning disability can teach the world about living life to the fullest."
Brendan Chivasa, activist: "I want people to know I'm always happy. I never give up at all. I always try my best to do what I need to do."
Heidi Carter, activist: "I love being a voice for those who can't speak, or those who may find it difficult to speak."
Harvey Price, student: "Harvey can do lots of things!"
Sophie Potter: "I hate being called cute [because I have Down's Syndrome]. I am gorgeous and sexy and fun. Not cute."
George Webster: "It's a myth that people with Down's Syndrome are always happy. I want to show that we are just people; we feel the full spectrum of emotions just like everyone else."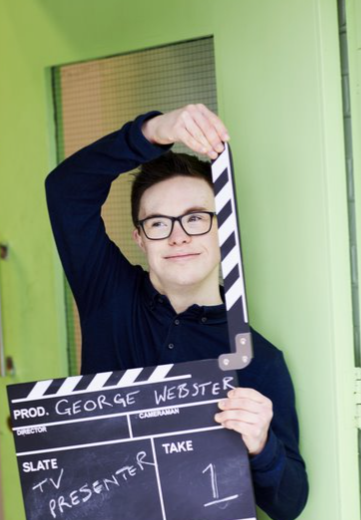 Sas Graville, football coach and Mencap volunteer: "The thing I'm most proud of in my life is being a Myth Buster and being in Cosmo magazine recently talking about my life and dating [with a learning disability]. I even had stars shaved into my hair especially before the Myth Busters photo shoot because I want to show everyone that people with a learning disability are all stars."
Jenn, mum to Alastair Smith a skater who runs a creative print-making and t-shirt printing shop: "Not everyone realises that [being] non-verbal does not necessarily mean being non-understanding. Alastair is a typical eighteen-year-old. He likes to be spoken to in an age-appropriate way, though sometimes he gets spoken to as if he's in pre-school. He likes going to gigs and festivals with his mates and dancing around. He likes triking and surfing and skating and people-watching. People are often surprised at what he gets up to and how much he gets up to, but our response to that is that we figure all eighteen year olds are rather busy."
Nigel Smith, hockey player: "I want people to understand the difference between care and support [for people with a learning disability]. I love being independent. Supporting me means teaching me to do things myself, not just doing them for me. It helps me live my life. I also want to see more people like me on TV; that would be brilliant."
Portraits
To announce the group, photographer India Whiley-Morton, who's aunt lives with a learning disability, has released unique portraits of each Myth Buster. India is the daughter of Radio DJ and Mencap ambassador Jo Whiley, who campaigned in spring 2021 to get people with a learning disability prioritised for the Covid-19 vaccine after she was offered the vaccine before her sister Frances who has a learning disability and diabetes.
The images India has taken of The Myth Busters showcase them living happy lives and busting myths at the same time, demonstrating the diverse range of ages, ethnicities, different types of learning disability and personality each member of the group uniquely brings to the charity.
For more information on the launch of The Myth Busters, including a chance to see the portraits by India Wiley-Morton and behind-the-scenes footage from the shoot, visit: mencap.org.uk/mythbusters
Get the latest news and interviews by following Enable on social media: Twitter, Facebook or Instagram.