With lockdown restrictions easing it's time to adapt to a life of social distancing and wearing face coverings in enclosed spaces. Three people share the challenges they face following the guidelines when living with a disability.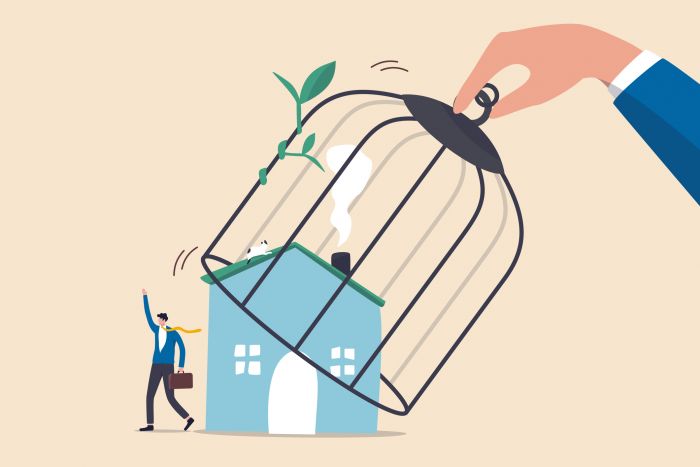 WORLD UPSIDE DOWN
Social distancing can be hard to adhere to at all times regardless of ability, but when living with blindness or visual impairment, social distancing can be nearly impossible.
Maureen Goodall has retinitis pigmentosa, Adie-Pupil syndrome and Charles Bonnet syndrome, which leaves her with limited tunnel vision; for Maureen, following social distancing has been problematic.
"I can't see where people are," explains Maureen. "I was forced onto the road at one point because they wouldn't move out of my way."
This experience has left Maureen feeling anxious about leaving home, meaning a loss of independence.
The Royal National Institute of Blind People (RNIB) created the World Upside Down campaign, calling on society to consider the challenges blind or partially sighted people may face.
At present we are navigating in a world that is becoming increasingly inaccessible for the disabled community.
Maureen continues: "I've got neck pain now too. When I walk out of somewhere or I'm in a busy place I move my head around a lot so that I'm safe, other people are safe, and I'm keeping two metres away from people – it has just been very difficult.
Now as we open up, a lot of shops have put out street furniture so you've got tables and chairs that I now have to negotiate and they're a lot further apart than they used to be.
"I hope that people can understand that we need to go outside too, we need to have our independence," adds Maureen.
"The biggest issue is maintaining the distance from people. I really struggle to keep a track of where people are, especially now as it is starting to get busier. It is just so very difficult."
NEW RULES
Regular hand washing, social distancing, staying indoors, it can be hard to understand what you can and cannot do. For people with a learning disability the rules can be hard to adapt to, no matter how much you want to comply.
Jack Marshall has a learning disability and has found it testing at times to understand what he should or should not be doing. "People often don't understand what things are for, or what the reason is," Jack explains.
"We need people to sit down with us and explain. Things are changing very fast. The rules are changing very fast."
With businesses re-opening and being able to see friends and family, Jack hopes that people can take more time getting to understand the needs of others and appreciate that some people may require additional help.
"We need to help people understand so we aren't seen as hostile or rule breakers, but just scared," adds Jack.
"Just talk to us – we are human beings at the end of the day."
In order to ensure everyone is as safe as possible and to avoid any questioning on following the guidelines, exemption products have been introduced, but Jack admits that this could be detrimental.
"Lanyards are a good idea if you are comfortable about sharing your disability, but it's like wearing a label and people shouldn't have to do this if they don't want to," says Jack.
"Why should disabled people have to walk round with a label stuck on them just so people believe us?"
BEHIND THE MASK
Masks have been a hot topic in recent weeks. We all understand the importance of face coverings, however, this is leaving people in the UK living with hearing loss unable to communicate.
There are an estimated 70–100,000 profoundly deaf BSL users in the UK. In terms of hearing loss (which includes hard of hearing and deafened people) there is an estimate that one in seven members of the population have a hearing loss.
"The feedback we have received from people who are hard of hearing is that they are lost because they can't lip read," explains Heidi Jobling, manager for Deaflink, a charity providing opportunities for D/deaf people to meet and learn.
"Lip reading supplements your hearing aid. Then with BSL, your facial gestures are so important. I have tried to sign with people who are wearing masks and it is not easy. Facial expressions are a really big part of sign language."
In a bid to make face coverings more accessible, volunteers for Deaflink began creating masks that featured a clear panel over the mouth for people who rely on lip reading or BSL. Even so, communication barriers will persist.
Heidi explains: "The windowless face masks are only going to work if we all wear the same coverings."
Heidi continues: "I've been having weekly video calls with one of our members who will ask me what she can and cannot do. We're picking up a massive fear from people, they don't want to go outside."
I AM EXEMPT
There are now exemption cards and products available to show you require additional help, patience or have a legitimate reason for not wearing a face covering.
Face coverings or masks are mandatory in Scotland and England when in an enclosed environment such as public transport, shops, or takeaway shops when not sitting in for service. The rules on when to wear a mask have since been updated, requiring masks or coverings to be worn in more locations.
The UK Government has since released PDF badges or cards that can be downloaded at home to show that you are exempt from wearing a face covering.
The badges and cards can be used at your own discretion, it is a personal choice to use exemption cards and not necessary by law. If you are exempt from wearing a face covering note that you should not be routinely asked why you are not wearing a covering.
The new rules are important, but there is no denying they can be problematic to follow for some members of our society.
Now, more than ever before, it is imperative we are kind and patient towards each other and lend a helping hand when we can.
Never miss a feature, follow us on social media: Twitter, Facebook or Instagram.