The Federation of Small Businesses (FSB) has launched a free Business Without Barriers online hub to support its new report into disability employment and entrepreneurship.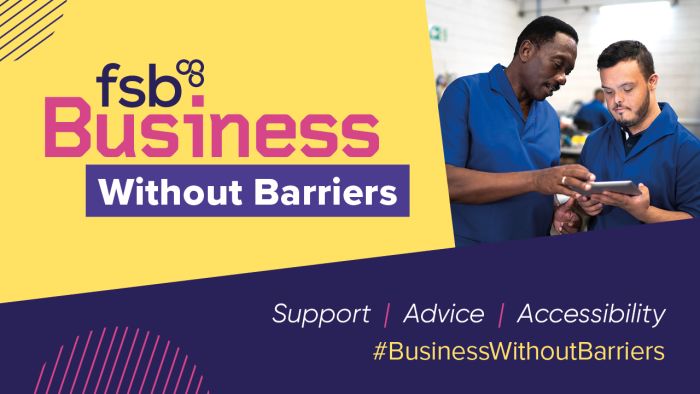 From starting a business as a disabled entrepreneur, to inclusive employment and accessibility, FSB's new online hub, Business Without Barriers, brings together a wealth of information, interviews, resources, and grant opportunities for small business owners and the self-employed.
The hub also includes personal accounts from employers and advice from employment experts to support small business owners to recruit and employ disabled people.
It launches as FSB's new report found that 51% of small business employers have employed someone with a disability or health condition in the last three years, but only 23% have heard of the Disability Confident scheme.
Disability Confident is a voluntary government scheme designed to encourage employers to recruit and retain disabled people and those with health conditions. FSB's Disability, Health, and Wellbeing Policy Chair, Julian John, helped to make Swansea the first Disability Confident city in the UK.
As the leading voice of 5.5 million small businesses and the self-employed, FSB has published recommendations for Government as part of a 10-Point Plan for Disability and Entrepreneurship.
Breaking down barriers to employment
FSB member Fiona Campbell started her own childcare business, Crazy Capers, after experiencing barriers due to her own disability. In 2010, Fiona was named Best Small Employer by ENABLE Scotland in recognition of her recruitment and training. 
As a Disability Confident employer, Fiona believes that all employers have a responsibility to make reasonable adjustments to enable everyone to have equal access to work. For Fiona, maintaining positive communication with your team as an employer is vital.
Crazy Capers works with local agencies to promote job opportunities to people who face barriers to employment, such as Invest in Renfrewshire.
Adopting a flexible mindset
FSB member Hardeep Rai, CEO and co-founder of Kaleidoscope Investments, helps disabled entrepreneurs to build businesses that are investable. "Everyone I work with has a disability. I think having a flexible mindset is the most important, whether it's time or allowing people to work in their own way … this builds loyalty and respect in the team," says Hardeep.
You can find Fiona and Hardeep's full stories, as well as more advice and guidance, by visiting FSB's Business Without Barriers hub.