What happens when you need a guide dog but you've got a serious fear of man's best friend?
Mohammed Salim Patel has been causing quite a stir in his hometown of Blackburn. Why? Because of Digby, the UK's first guide horse for blind people.
With a phobia of dogs, the 23-year-old journalist has to rely heavily on people to get to-and-from work. "I have a support worker who picks me up and takes me home and supports me full time in the office," he said to The Guardian. "Digby would relieve a lot of that."
At the moment, Patel and Digby are getting to know each other. The pair have been out and about in Blackburn with Digby's trainer, Katy Smith. They've been the source of delight in the town as Patel and his four-hoofed companion wander the streets, with Digby wearing a special "Horse-in-Training" reflective coat.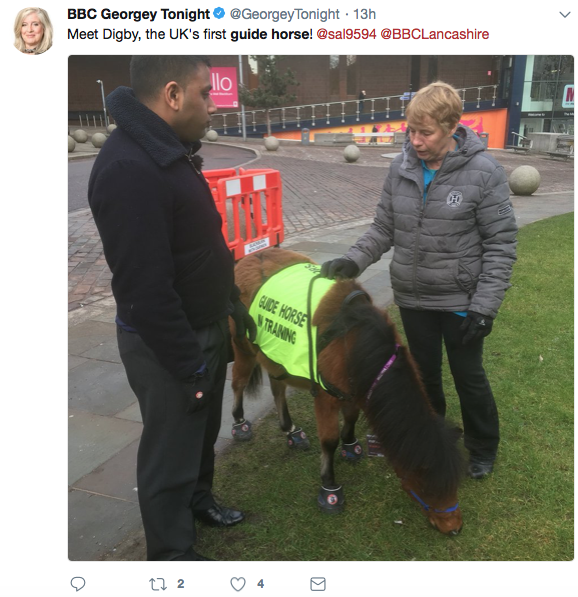 Digby is an American miniature horse. It'll be another year and four months until he's fully grown and trained (he's only eight months old), and then he'll move into a miniature stable in Patel's garden.
Despite his youth, Patel has been impressed with Digby's calm temperament. Smith believes that miniature horses make the perfect guides. "They're almost like dogs," she said to The Guardian. "It's the way they watch you and want to be with you. They want to please you."
However, they also require slightly bigger housing than dogs. They need outdoor accommodation and aren't suitable for the big city. American miniatures, like Digby, can live to be 45 years old, so these are companions for life.
With the success of Patel and Digby, Smith has already had enquiries about training more guide horses so, who knows, maybe in a few years we'll be seeing many more Digbys being put to work about town!