Award-winning innovation start-up, Aergo Health, has developed the world's first automated postural management seating system, empowering people to live life to the fullest.
Supported by the James Dyson Foundation and Royal Academy of Engineering, Aergo PS is designed to provide automated postural management for young wheelchair users born with neuromuscular conditions such as Muscular Dystrophy, Spinal Muscular Atrophy, and Ataxic Cerebral Palsy.
Unique innovation
With unique, patented air cell technology, the seating system monitors how the user sits through the day and automatically adjusts support levels as they move. This enables the user to stay active and comfortable without losing postural alignments.
Through a Pilot Study with 10 young wheelchair users, the postural management seating system is shown to improve independence and all-day comfort to manage the sitting needs of children effectively.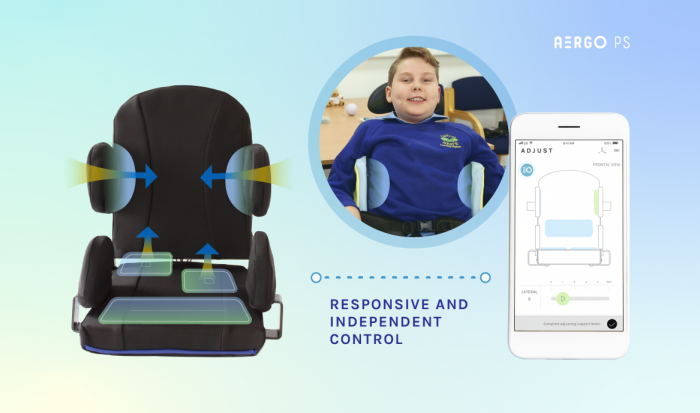 Founder and CEO of Aergo, Sheana, created the company to empower people with disabilities having lived with scoliosis throughout her life. Sheana wanted to find a better solution to managing posture for people with physical disabilities.
The Aergo PS is fully adaptive to a range of sitting needs and body shapes, available in three sizes and supporting children from six-years-old up to adults.
Aergo Ambassador Programme
Now, the start-up is launching the Aergo Ambassador Programme. A chance for young adults who are interested in technology to not only own award-winning technology but collaborate with a team of innovators.
The programme is looking for five young wheelchair users to become the pioneers of the Award-winning technology. Aergo is offering a 50% discount on Aergo PS (£1300 instead of RRP £2600) which covers the device and accessories manufactured by Aergo.
The company will also provide one-year of 1:1 technical support, ensuring the seating system is tailored to the user's needs, and Ambassadors will have the chance to work closely with the engineering team and founder of Aergo Health. In addition, all Ambassadors will gain first access to new features such as gaming integration and more. 
We'd love to share the Ambassadors stories and experiences with Aergo PS, to help other potential users, and to provide valuable user insight into our future product development. Ambassadors will become a valuable extension to the Aergo Health Research and Development team.
In order to be considered for the Ambassador Program, please fill in the form online so the team can get to know you a little better. The Aergo team will get in touch with you to assess if Aergo PS is the right equipment for you.
Join Aergo on a mission to create a world where everyone is comfortable and empowered to live to their fullest potential.