NorthLink Ferries operate the lifeline service between the Scottish Mainland and Orkney and Shetland. With three passenger vessels carrying around 300,000 passengers annually it's vital that the service is accessible for all and each vessel has been designed with this in mind. 
Each ferry terminal has automatic entry door openings and step free access as well as low level check-in desks.
Passenger walkways are located across all terminals too and all areas are accessible by lift.
Vehicle passengers may request that their car is located near the lift on the ship's car deck to ensure a smooth transition.
PRE-VISIT
NorthLink Ferries offer pre-site visits where you can call into the terminal and head on board to familiarise yourself with the vessels and boarding process.
To arrange this, simply contact the NorthLink customer service centre. Alternatively you can visit the NorthLink website and tour the ships and terminals virtually with Google Streetview.
The NorthLink Ferries website is fitted with the Recite Me accessibility tool which reads text aloud, changes font sizes, colours and styles to suit specific needs.
British Sign Language (BSL) users can contact NorthLink Ferries via an interpreter provided by Sign Solutions.
The system works by allowing customers to video call an interpreter who will in turn phone the customer service team. The system also works within all the NorthLink Ferries terminals. 
The ferry company have also just announced their partnership with Neatebox who have a revolutionary app called 'Welcome'.
WELCOME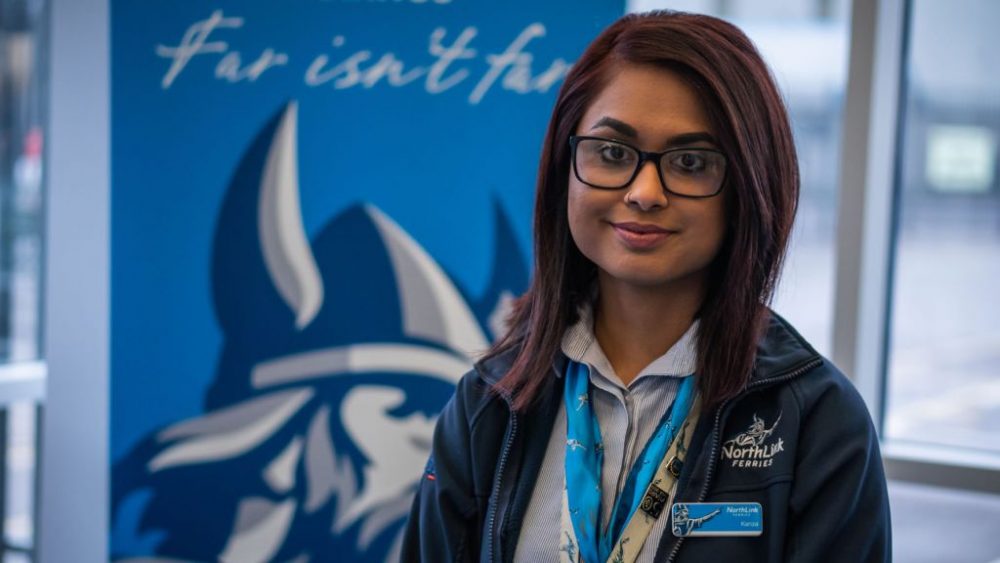 The free app allows users to indicate the areas they need customer service teams to be aware of. NorthLink Ferries will be able to greet customers using the 'Welcome' app by name when they arrive at NorthLink ports and can offer them the assistance they may require.
For more information about Neatebox and to download the app, please visit the Neatebox website here.
COMMITMENT
NorthLink Ferries' commitment to inclusive travel doesn't stop with the booking and boarding process.
On board all three vessels is a range of accessible cabins which are designed to be spacious and comfortable.
Each accessible cabin door is electrically operated and 90cm wide. More than half of the accessible cabins have hoist facilities for those who require them and every accessible cabin is fitted with a TV, a phone which connects to the ships reception and their own en-suite bathroom with a sliding door.
Sinks are fitted with colour contrasted grab rails and a mixer tap, the toilet seats are colour contrasting too. The showers are equipped with a waterproof seat and various types of commode are available on all vessels.
All passenger areas are accessible via lift access which are brightly lit and have audible instructions, along with braille signs.
Changing Places Toilets have recently been a welcome addition to the on board offering. These facilities are larger than standard accessible toilets and are fitted with a hoist and height adjustable changing bench.
The ferry company hopes that all passengers will have a comfortable sailing and arrive feeling refreshed and ready to begin their Orkney or Shetland island adventure!