Amazing outfits, an iconic disco ball and impressive dance moves all come to mind when you think of Strictly Come Dancing, but this year, Rose Ayling-Ellis is putting disability in the spotlight as the show's first ever deaf contestant.
This winter, Rose Ayling-Ellis is making the switch from soaps to Strictly as the show's first ever deaf contestant. The EastEnders actress is captivating the nation, already garnering praise for her newfound dancing skills on the show and achieving Strictly's earlier ever 40: the highest score possible.
Awareness
When Rose was first approached to take part in Strictly Come Dancing, she knew she couldn't turn down the opportunity.
"I thought it was a fantastic chance to spread more deaf awareness and also for people who watch the programme who are deaf to say amazing, there's someone deaf on the show," recalls Rose. "I think it's such a great show: you learn to dance which is a completely new skill. Who would say no to Strictly?"
From the beginning of this process, the team behind Strictly were keen to hear about Rose's requirements and create a positive experience for her.
"I had lots of conversations with Strictly, the team were so lovely, they really wanted to do it right and they didn't want to make mistakes. They asked me questions about what I needed, what I want," reveals Rose.
This included everyone on the show being given deaf awareness training before she started, giving them basic knowledge and teaching them some British Sign Language (BSL). Before the show even started to air, Rose was creating change: along with training, Rose asked that live subtitles were improved and that these, along with audio description and a BSL interpreter, were added to the show as soon as it was uploaded to BBC iPlayer. Previously, these accessibility tools took an additional 24 hours to become available.
"They listen and that's very much important," stresses Rose.
Rose also has three BSL interpreters on the show which are shown to the audience in the ballroom and at home.
"I asked for three interpreters for live TV: one for the judges, one for up front and one for backstage, because it would look a bit funny if one interpreter ran after me while I was on the dancefloor," laughs Rose. "I have them on the screen but not all of the time because it's not about the interpreter, it's about a deaf person dancing."
Challenge
With no experience behind her, Rose started rehearsals with no idea on how she would keep to the music when she couldn't hear it for herself.
"Every week we always have a new challenge so the timing, the beat, it's all different," reveals Rose. "I just take it one week at a time, I have to be in the moment and focussed on surviving the live show each Saturday."
Through trial and error, Rose has found that counting the beats is one of the best ways to follow the choreography. Teaching definitely isn't new to Rose's professional partner, Giovanni Pernice, but the chance to dance with Rose is broadening his horizons.
"It's a completely different thing for me," admits Gio. "I've never done anything like this before so it's just making sure Rose feels comfortable with everything we do.
"I did the training with everyone else but the difference started when we got partnered together and started training, you just learn from there, you find ways that work for both of you."
The pair have worked together to find new processes to train and the result is week after week of praise from the Strictly judges and the public.
"It makes it rewarding more than anything else, the process is not frustrating, the approach is just different," emphasises Gio. "On the dancefloor it looks like we're both doing a great job, me as a teacher and her as a student."
Impact
For Rose, the highlight of each week on Strictly is getting to perform live and having all of the hard work in rehearsals pay off, but she is still learning.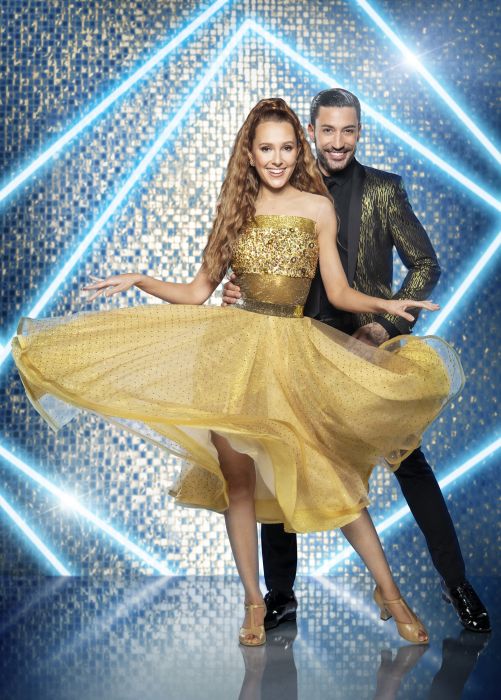 "All of the dances are so different from each other so you're really starting from scratch each week, it's all completely different so some of the time I feel like I move with the body more, some of it I count and rely on counting, some of it is sort of using muscle memory so it's just a combination, it's about working that out and experimenting."
As the show progresses and Rose's input continues to have a positive impact, she hopes that it stretches further than Strictly or even the BBC.
"I wanted to show people the way live TV works for the deaf community because it was never accessible for me in the first place," reveals Rose.
"If you say you want it to be enjoyable for everyone, then you should really mean everybody," concludes Rose.
Watch Rose and Gio on the dancefloor on Saturdays at 7pm on BBC One or catch up on BBC iPlayer.
Featured image credit: BBC Pictures