Yesterday evening (31 March) the Department of Health and Social Care released new social care guidance under the Coronavirus Act 2020, which could see care temporarily amended for many disabled people.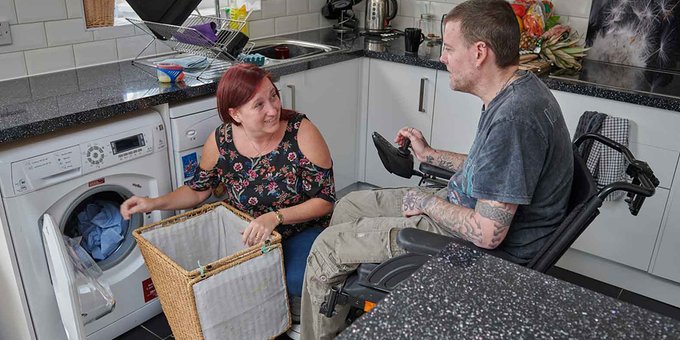 Detailed in a manner to help ease excess strain on Local Authorities during the ongoing COVID-19 pandemic, the UK Government have stopped certain aspects of the Care Act 2014 for the foreseeable future.
Councils are allowed to declare they are in an 'emergency period,' but during this time they must try to ensure everyone continues to get the right care and support. But, if necessary, to ensure people with the highest needs get care and support, some services may be changed.
This could also mean less support for people with existing care packages. If a council is in an emergency period, it will be reviewed every two weeks.
However, in order to alleviate extra demand on councils, many people in the disabled community risk having their vital care and services paused.
CONCERN
"As the coronavirus crisis continues to escalate, we are deeply concerned about the impact of further restrictions on social care for people with MS in England," says Dr Susan Kohlhaas, director of research and external affairs at the MS Society.
"More than 130,000 people live with MS in the UK, and the system has been failing many of them for years – with one in three not getting the basic care and support they need.
"Many are already at risk and these new measures could have serious consequences for their health, safety and wellbeing.
"We understand difficult decisions must be made in order to protect lives, but those who depend on public services every day must also be protected, and should not feel threatened as a result."
PURPOSE
The UK Government has announced the changes are in place to help stop growing pressures on Local Authorities, as unpaid carers are forced to self-isolate from the person they care for or unpaid carers are becoming unwell.
It is believed councils are to continue providing as much care they can continue meeting alongside upholding prior duties before the Coronavirus Act 2020 was implemented. 
If your care will be amended, your council will need to contact you directly.
The powers within the Coronavirus Act is said to enable local councils to prioritise more effectively where necessary the care required, that may not have previously been possible under the Care Act 2014.
But what do the changes mean for the disabled community?
CHANGES
There are four key amendments under the new Coronavirus Act, each applicable for the period the powers are in place.
Local Authorities will not have to carry out detailed assessments for people's care and support needs in compliance with the pre-amended Care Act requirements.
Financial assessments will not be carried out by local councils. However, the Act will allow powers to charge people retrospectively for the care and support they are to receive.
Local Authorities will not have to prepare or review care and support plans in line with the pre-amendment Care Act provisions. Even so, person-cantered care planning is still to be undertaken.
The power to meet overall needs is to replace meeting eligible care and support needs, or the support needs of a carer.
All amendments became legally effective as of Tuesday 31 March 2020 – and the Secretary of State is said to keep the amendments under review and terminate them as and when the current pandemic eases.
You can read the full easements and changes in power by visiting the UK Government website, here.
Are you concerned if the changes to the Care Act 2014 will affect you? Let the #EnableCommuntiy know on Twitter and Instagram to get support or share your thoughts.