Able2 Wear are the UK's leading supplier of wheelchair and adaptive clothing, working closely with wheelchairs users, carers and professionals over the past 25 years to develop a range of disabled clothing to meet specialist needs.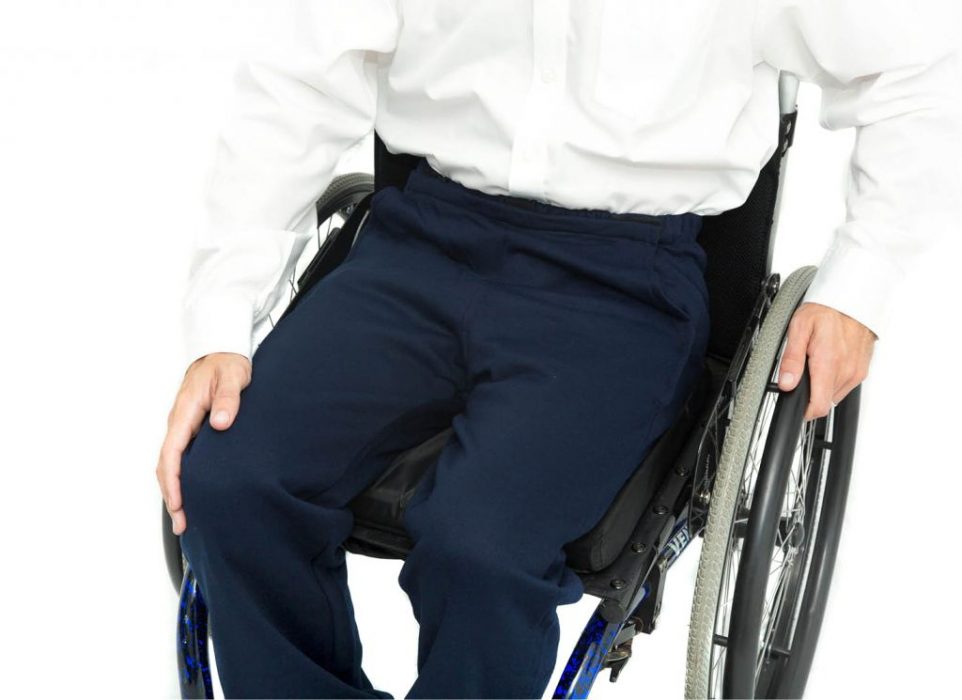 Every item in their unique collection of garments for men and women has been skilfully designed to bring confidence, style and comfort to the wearer.
From their best-selling drop-front trousers, fleeces and waterproofs for wheelchair users, to elasticated waist trousers for those who struggle to manage fastenings, our clothing looks good and feels great; no matter what the occasion.
Drop-front wheelchair trousers
Our drop-front wheelchair trousers are by far our best-selling line, thanks to a unique design which allows easy access for those who need trousers that can be managed with one hand.
With no zips or buttons to get in the way, all of their specially-designed drop-front wheelchair trousers have been created with optimum comfort in mind. Boasting a higher back and shaped seat style as standard.
Available in a range of fabrics including soft cotton jersey, cord, chino and denim, we also offer a large selection of sizes ranging from waist sizes 32-52, and inside leg measurements of 31 or 34".
Wheelchair trouser features include:
High backs and low front
Flat seams for comfort
Shaped for seating
Longer legs to fit properly when seated
See just how easy they are to use:
Able2 Wear is proud to say that their wheelchair trousers have helped a great many of their customers, and carers, improve quality of life over the years.
One customer enthuses: "I got these trousers for my father and he is delighted with them. They are very good quality and wash really well.
"The drop-front has made his daily living so much easier as he has very limited mobility. His carers are very impressed with them too as they make it so easy to help dad dress with dignity. Thanks so much!"
Easy-to-manage elasticated waist trousers
Able2 Wear also offer a range of easy-to-manage elasticated waist trousers for those who are able to stand and walk, but have difficulty managing fastenings.
Again, these are available in a wide range of fabrics and colours, in waist sizes 32-50" and inside leg measurements of 29, 31 and 34".
Wheelchair waterproofs and fleeces
Not only do Able2 Wear offer easy-to-manage trousers, they've also thought about how to keep you warm and dry when the weather isn't behaving. The clothing lines range of waterproofs, available as warm-lined and non warm-lined garments, are 100% waterproof, while our range of fleeces are ideal for wrapping up against the chill.
Wheelchair accessories
The range of accessories includes a selection of products that aim to make life a little easier for our customers and carers. From extra wide fitting oedema socks and shoes, to Able2 Wear's popular smokers' aprons, wheelchair bags and easy fastening belts: Able2 Wear has got it covered.
Receive 20% off your next order using discount code ENED20 at the checkout. Not valid with any other offer.
Visit Able2 Wear here or call them on 0141 775 3738