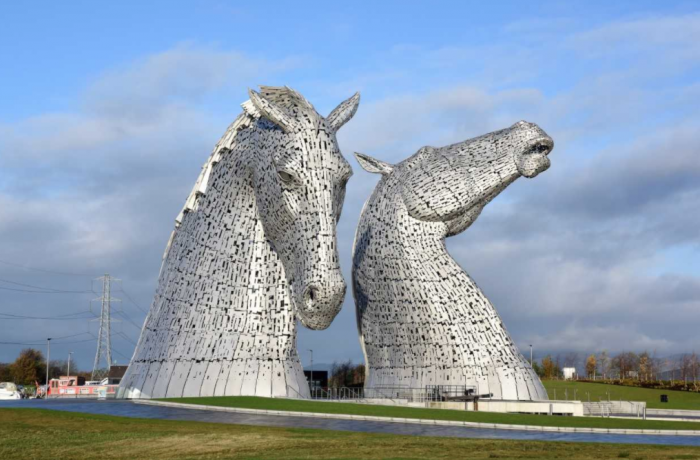 It's one of the most iconic sculptures in Scotland – but did you know that visiting The Kelpies could also be a fun, accessible day out for all the family?
The Helix: Home of The Kelpies is located between Falkirk and Grangemouth and is place for everyone as there is so much to discover. The Kelpies, made by artist Andy Scott, sit in the heart of the park and pay homage to the working Clydesdale horses, as well as the Scottish myth of water horses that can shape shift. The largest pair of equine sculptures in the world, the statues have become a five-star visitor attraction and true icons of the Scottish landscape. 
They're called Baron and Duke – and you can even go inside them!
The Kelpies are a free attraction to come and visit, and the whole area around the Kelpies is paved for easy access to enable everyone to get up close. You can even go inside on a Kelpie tour to marvel at their complexity and engineering (and now kids go free!). There is also a Visitor Centre at its base with souvenirs and a café serving hot food, all locally sourced and prepared in-house.  
But the Helix is not only the Home of The Kelpies, it is a vast green space with a number of fully accessible routes and pathways. There is the boardwalk which winds through the bird pond where swans and ducks love to paddle. Not forgetting the adventure play park, splash play fountains, lagoon and miles of cycle paths – it's a great place for a weekend stroll. 
The park also hosts a number of events, including the upcoming STEM at The Helix on 19 May. It's going to be a fun day out with lots of activities around Science, Technology, Engineering and Math to celebrate the Year of Young People.  
As The Helix and Kelpies turn five years old in November, there will be a number of festivities going on at the park to celebrate. Keep an eye on the website.