As the world reopens, new research shows that language is a barrier in the connection between disabled and non-disabled people. It's time to talk about the language of disability.
While people have remained cocooned by their own communities over the last 18 months, effective communication may have become more difficult for some. But, one social barrier existed pre-pandemic and remains: the language used when discussing disability.
Recent research by Leonard Cheshire featured disabled and non-disabled respondents and highlighted that three in four disabled people say that more needs to be done for non-disabled people to understand that their words cause offence.
It also showed that 40 per cent of non-disabled people would be more likely to interact with disabled people if they knew the correct language to use.
The shocking figures prompted the launch of the Words Hurt campaign, fronted by rap artist Kray-Z Legz, aka Mark Humphries.
PERSONAL EXPERIENCE
Living with spina bifida, Mark has experienced first-hand the use of incorrect language and is a passionate advocate for raising awareness of musicians with disabilities.
"I think the main purpose of this whole thing is to get rid of that barrier between people's disabilities and [non-disabled] people, I mean, I've experienced it quite a few times," reveals Mark.
While Mark wants to see change, he also understands that hurtful language isn't always purposeful and acknowledges the role that education plays in creating a more welcoming society.
"People can feel quite awkward sometimes approaching someone with a disability and I think it's trying to get rid of that barrier and bring people together," explains Mark.
"I think communication is key, everyone wants to be spoken to like a human being at the end of the day and we all need that social interaction."
WORDS HURT
To launch the campaign, Mark penned a rap titled The Language of Disability, which was then released in a video, quickly grabbing attention and support online.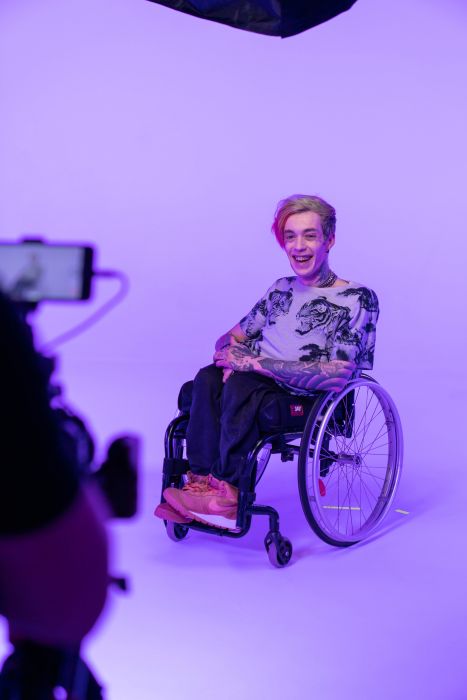 The lyrics touch on the research, the importance of effective communication and some of the language that should be avoided, along with good alternatives.
For Mark, the most effective way to remove this barrier is to have open conversations where people aren't scared to make mistakes.
"I believe as a person you can tell when there are words being used in context against you or if it's a misunderstanding.
"If someone was to approach me and say their kid doesn't understand why I use a wheelchair, I would happily talk to someone. I think that would actually make me feel better as a person as well, I'd feel happier just knowing that kid is going to grow up understanding that now."
With greater focus on growth when it comes to language and disability, social situations won't just improve for disabled people, but future generations will know disability doesn't mean bad.
Find out more about the campaign by visiting Leonard Cheshire.