As we adapt to the new normal and get used to social distancing, Guide Dogs have asked the general public to 'keep their distance, but don't disappear' – to help those trying to social distance with sight loss.
Guide Dogs charity has highlighted a new set of challenges for people with sight loss to overcome – with social distancing measures limiting independence and increasing isolation – and launched a campaign to help combat these challenges.
BARRIER
Jonathan Attenborough, a guide dog owner from Perth, explains: "Social distancing is the most challenging aspect for me in the whole Covid-19 situation.
"Not being able to socially distance is a major challenge to my independence and keeping myself safe.
"I'm less confident getting out and about than I was.
"Now that lockdown is lifting, other people are trying to get their life back to what it was, but it's a whole new world for people with sight loss.
"It's a lot for us to adjust to and it would really help if people have an awareness of how they can play their part."
ASSISTANCE
Research conducted by the charity in the first week of June found that just 22 per cent of the general public would feel 'completely comfortable' offering to help someone with sight loss while social distancing measure were in place.
Reasons for a lack of comfort amongst this group included not knowing how to help from two meters away (50 per cent), and being concerned about making physical contact (37 per cent).
The research also found that although 78 per cent of UK adults understood that those with sight loss would face additional challenges while social distancing, 65 per cent hadn't considered this prior to taking the survey.
BE THERE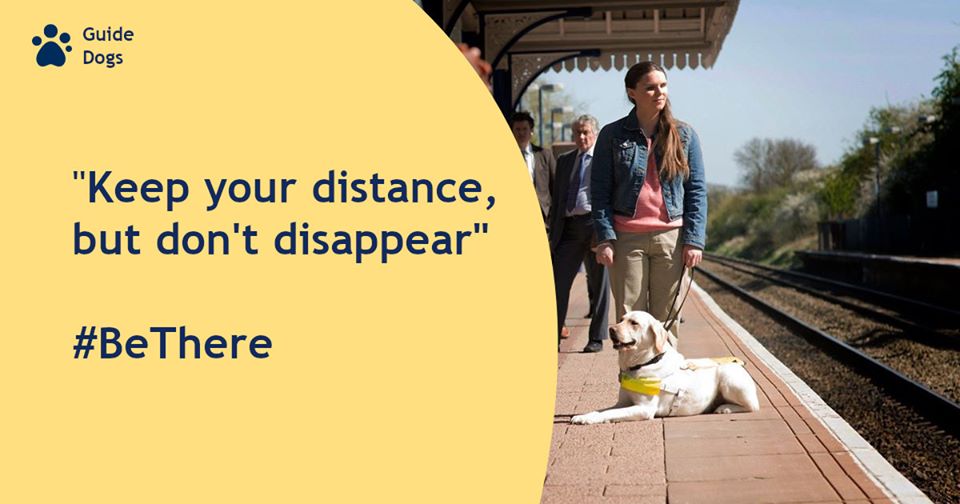 In a bid to help combat the increasing isolation felt by those with sight loss during lockdown, Guide Dogs is launching a campaign called Be There, which gives guidance to encourage the public to feel confident in their ability to offer support whilst maintaining social distancing.
The message is to: Keep your distance, but don't disappear; say hello and offer your help; and describe the scene for an individual.
Jonathan continues: "I don't always know there is a queue because my dog Sammy takes me to the door of the shop, not the end of the queue.
"Shops have introduced visual indicators and one-way systems and if you can't see they're a major challenge."
HELLO
The training a guide dog receives is extensive, and many rules around social distancing go against this training so public support and vigilance is essential.
Anne Ruddick, who is also a guide dog user, adds: "It can be really challenging at the best of times when you can't see what's going on around you.
"At the moment, it's vital that I get more verbal information from people around me, as a lot of the environment around us is built on visual cues, which I can't rely on.
"By saying 'hello' and offering some extra help could make the world of difference."
Are you a guide dog user? How has social distancing impacted your routine? Let us know on social media, Twitter, Facebook or Instagram.