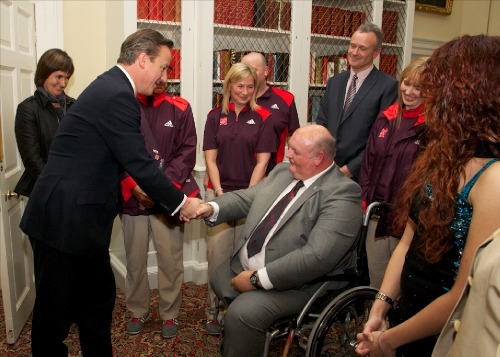 Steve Tarrant, 51 from Poole, who set a new 24 hour World Record in June and was responsible for medal bearing at the Olympics and Paralympics, has received the Big Society Award from David Cameron at 10 Downing Street on behalf of fellow Games Makers.
Steve Tarrant is an inspirational disabled motorsport marshal who survived a highly publicised near-fatal crash incident at Goodwood Festival of Speed in 2000. He marshals at around 30-40 international motorsport events per year such as the Le Mans 24 Hours, Petit Le Mans at Atlanta and Goodwood meetings. Steve lost a leg above the knee and suffered multiple injuries when an F1 racing car collided with him at over 100mph whilst marshaling on the finish line at the Goodwood Festival of Speed. Steve managed to pull through from the accident and earlier this year, established a new World Record by travelling 173.287miles (278.88km) in 24 hours on a mobility scooter, while raising funds for charity. Despite appalling track conditions and extreme weather, he completed 830 laps of the Peterborough Arena Speedway Track at the 2012 Mobility Roadshow on a TGA scooter, thanks to support of motorsport colleagues and a TGA pit crew. This resulted in Steve and TGA holding the record for 'travelling the furthest distance ever in 24 hours on a mobility scooter'. Steve continued in the media spotlight after the Mobility Roadshow as an official Games Maker at the Olympic Games and victory ceremony medal bearing duties at the sailing venue in Weymouth. These outstanding contributions led to nominations for him to accept the Big Society Award and Steve has now also received an invitation to attend BBC Sports Personality of the Year.
Over 240,000 people across the UK applied to be a London 2012 Games Makers and Steve was one of 70,000 who were successful. Alongside a select group of fellow Games Makers, Steve was invited to 10 Downing Street last week (28 November) to meet David Cameron and accept a Big Society Award which recognises the huge contribution made by these individuals during this summer's Games. Since its launch by the Prime Minister in November 2010, this was the 50th award given to individuals or groups who help to build a bigger, stronger society.
Steve commented: "It was such an honour for me to accept this award on behalf of all the Games Makers who have definitely established a positive legacy around the world. I chatted to David Cameron for around ten minutes in one of the forth floor reception rooms at 10 Downing Street, regarding my experiences in the summer and as he had been to all the Olympic and Paralympic venues, spoke very knowledgably about the subject.
"2012 has been a truly amazing year for me what with establishing a new World Record thanks to TGA, official involvement during the Games and being invited to 10 Downing Street. To top that, I have also now being invited to the BBC Sports Personality of the Year 2012 to appear with other Games Makers as the show at ExCeL (16 December) will be focusing around the outstanding success of the Olympics and Paralympics."
Steve adds: "2012 has been quite literally a phenomenal year for me, however I plan to achieve even more in 2013! I am already discussing the possibility of attempting another epic world record with TGA on one its market-leading mobility scooters and hope to be involved in some capacity with the very special 30th Anniversary Mobility Roadshow in June. I continue to draw up my international motorsport marshaling plans for next year as normal, along with my continued search for a commercial sponsor and opportunities where my unique knowledge of accessibility and sport, can be leveraged to assist disabled people everywhere."
Daniel Stone, TGA Managing Director concludes: "We fully congratulate Steve on this latest recognition of his commitment and dedication to help improve society and promote accessibility for all. His determination earlier in the year to drive one of our TGA mobility scooters for 24 hours to smash a World Record was inspiring and I do not think David Cameron could have selected a better Games Maker to accept this Big Society Award."
Steve continues to raise donations for two charities –
· To donate to Accessible Motorsport, please send a PayPal donation to: stevetarrant.recordattempt@virginmedia.com
· To donate to the Royal British Legion, please donate via: www.justgiving.com/steve-tarrant