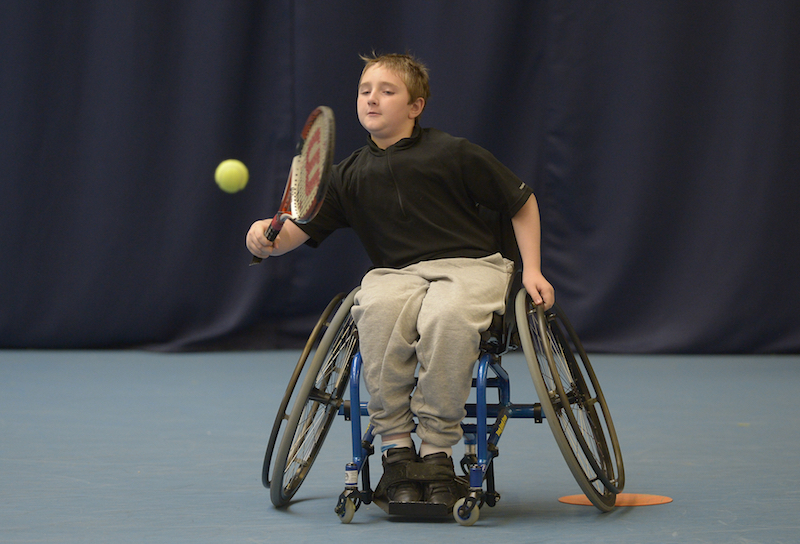 Lee Valley Hockey and Tennis Centre in Queen Elizabeth Olympic Park is hosting its second annual disability tennis festival on Friday 29 January.
Held at the world class tennis venue, the inclusive event is open to all local mainstream and special schools. Schools from neighbouring boroughs including Newham, Hackney, Tower Hamlets and Waltham Forest have been invited.
Ninety Key Stage Two students with a range of disabilities including Autism, Severe Learning Disabilities, Mild Learning Disabilities and Physical Impairments (including visual and hearing) will be in attendance.
Coached tennis sessions will take place on the four indoor tennis courts which were used by the world's best disabled tennis players at the NEC Wheelchair Tennis Masters. Students will enjoy a range of fun tennis games, activities and tasks including drop and catch and speed of serve challenges. Each session will be adapted to suit the abilities of participants and can be tailored to suit any disability.
Professional tennis coaches will lead the sessions and will be supported by students from St Angela's Ursuline School and Eastlea Community School, who volunteer as young tennis leaders following an inclusive Step into Sport Camp held at Lee Valley Hockey and Tennis Centre.
Jack Pringle, Sports Development Officer at Lee Valley Regional Park Authority said "We're excited to host our second disability tennis festival. Building on the success of our first event in 2014, we want to inspire children from all walks of life to pick up a racquet and take part. Tennis offers the opportunity to improve coordination, fitness, mobility and develop social skills. Lee Valley Hockey and Tennis Centre welcomes children regardless of disability or impairment. The festival is a great chance for kids to get involved in sport, develop their skills, get fit and make new friends all at the same time."
The disability tennis festival is run in partnership with the Tennis Foundation, Britain's leading tennis charity with additional support from the Lee Valley Community Access Fund. The fund was created to allow and encourage the local community, including special needs and youth groups to access sports, outdoor learning, attractions and open space provision that would otherwise might not be possible.  This collective initiative aims to make a difference to the lives of people across the region and give them a chance to take advantage of the world-class venues and activities that can be found at Queen Elizabeth Olympic Park and in the wider Lee Valley Regional Park.
Lee Valley Hockey and Tennis Centre offers a range of sessions tailored for disabled adults, children with special needs and for specific community groups. The centre offers weekly wheelchair and learning disability tennis sessions, in addition to monthly visually impaired camps. Visit www.visitleevalley.org.uk/hockeytennis for more information.