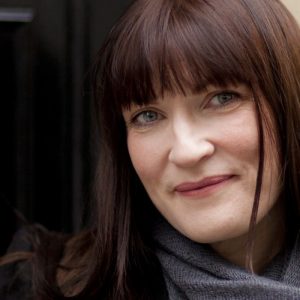 As a blogger, activist, mum, carer and, since last summer, 'the woman who stood up to Ricky Gervais', there are many different sides to Nicky Clark. When she started to campaign for the rights of disabled people ten years ago, she had no idea how big it would all become. Nicky shares her journey from carer to campaigner with Lindsay Cochrane.
One word to describe Nicky Clark would be 'determined'. Determined to do the best by her family, determined to be heard and determined to make a difference. Which is why, when her daughters became victims of bullying and hatred, she had to do something about it.
"I'd probably been cross for ten years, which was the point at which my daughter Lizzy was diagnosed with Asperger's," Nicky explains. "Once you start down the diagnosis route, you realise just how very poorly designed the world is if you're living with a disability."
Both Lizzy and her younger sister Emily have complex needs and Nicky cares for them full-time. As well as living with Asperger's, 18-year-old Lizzy suffered a major anxiety episode last October and has been reluctant to go out on her own since. Emily, who has just turned 15, has autism, learning disabilities and epilepsy and since May of last year has been refusing to attend school. Until five years ago, she also cared full-time for her mother, who had Alzheimer's, before she moved into a nursing home. She passed away last December.
CONTROVERSY
In 2008, Shropshire-based Nicky launched her first national campaign, Don't Play Me, Pay Me, to get more disabled actors on screen after Lizzy was cast in BBC drama Dustbin Baby. The campaign received incredible media attention, however, it was last summer that Nicky really made the headlines when she used micro-blogging site Twitter to question controversial comic Ricky Gervais over his use of the word 'mong'.
When Ricky shared Nicky's views with his fans, the backlash followed. Foul messages and rants came from across the globe as people launched into attacks against Nicky and her children, furiously declaring that political correctness had gone made.
"It was a very strange Friday for me," Nicky admits. "Ricky became aware of the fact that I was receiving abusive comments. He was very upset that I or anybody was getting that sort of abuse over this issue, and that anyone would think that he would use the word to reference Down's syndrome. So he phoned and spoke to us for an hour. He spoke to Lizzy at length, and within a couple of minutes of speaking to him, I could see he definitely wasn't someone who was being arrogant or who in any way felt smug or superior for using that word – he was devastated. It put this taboo subject on the table and people were able to discuss it because it was put out there in such a high profile way."
BALANCING ACT
Since her run-in with Gervais, Nicky has emerged as a bit of an expert in terms of disability rights, bullying and hate crime – Gervais even sent her a copy of his latest TV show Derek to get her views before it aired. On top of blogging, tweeting and campaigning, she's also a regular contributor to the Guardian and has appeared on the likes of the BBC and Channel 4 to comment on issues surrounding disability. In between all of this, she still manages to be a carer and a mum.
"I can't deny it's challenging," Nicky says. "The two main things you feel as a carer are guilt and exhaustion. At the end of the day, any challenge that I face is nothing compared to the girls, what they need and what their life will be like."
Nicky's mission to change Britain's attitude towards disability is ongoing. While the Gervais incident may have made people think twice about what they say, one Mencap survey revealed that 90% of people with learning disabilities say they have been bullied or harassed. But what does she think is the solution to this very serious problem?
"Very few people know people with a disability," Nicky says. "They may know carers but they don't necessarily know the person with the disability. Because of that, because of this ignorance, this leads to social isolation, either for disabled people or for their carers.
"I think television is the biggest most powerful weapon there is in promoting acceptance. We need to remove this notion of otherness and this notion of a hidden ten million plus people in this country. Racism will always exist. Homophobia will always exist. Disabilism will always exist. But attitudes like these are given more room to roam if a section of society is invisible. For me, that particular medium is the most powerful way of making them visible."
Read Nicky's blog at www.nickyclark.blogspot.com or follow her on Twitter @mrsnickyclark.