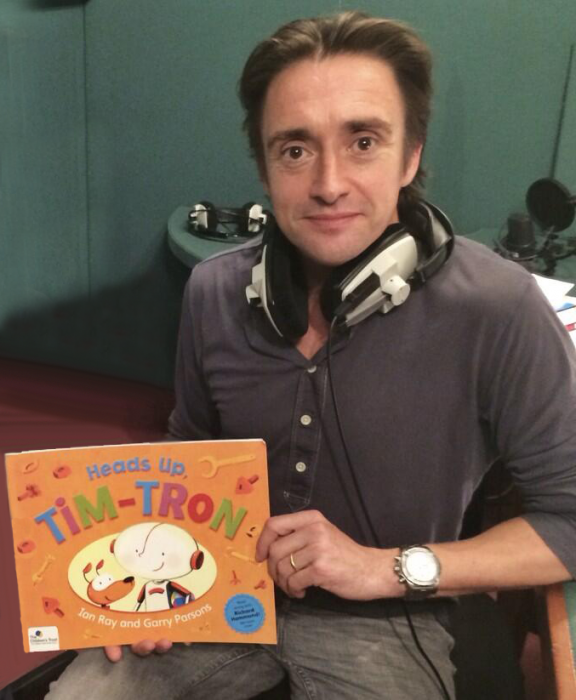 Top Gear star Richard Hammond is backing a book launch in a bid to help youngsters better understand brain injuries and their hidden effects. 
The BBC presenter suffered a serious brain injury himself when he was involved in a high speed car crash.
Brain injury has also featured heavily in the news agenda after retired Formula One driver Michael Schumacher was involved in a skiing accident in recent weeks.
Richard said he is proud to lend his support to the publications, which are now available to order and he has also made an exclusive audio-book to accompany one of the books.
Talking about the creation of the publications, which includes a parents' handbook and two children's books, he said: "This is a wonderful, colourful way for families touched by brain injury to explore the issues they may face."
The children's books are aimed at different age groups and are designed to empower children and help them in their rehabilitation journey.
They have also been designed to encourage empathy among all youngsters towards other children or siblings who may be living with a brain injury.
Heads Up, Tim-Tron explains acquired brain injury to young readers of primary school age, through the story of a mischievous little robot, who bumps his head whilst playing.
Because of his bump, one of Tim-Tron's circuit boards stops working and he has to discover new routines and ways of doing things in life.
The book, which is accompanied by Richard's audio-book, won the prestigious United Kingdom Acquired Brain Injury Forum innovation award and has earned enthusiastic reviews for its clever portrayal of brain injury. It was also chosen as The Book Trust's Bookmark Book of the Month.
You can watch The Making of Heads Up, Tim-Tron by clicking here.
Medikidz: What's up with Tamara? is aimed at slightly older children and teenagers. The comic book is based around a real teenager, dealing with acquired brain injury (ABI).  Readers follow superhero, Tamara as she is whisked off to Mediland for an encounter with Medikidz.
Acquired brain injury in children: a parents' handbook is aimed at parents of children who have ABI.
The books have been developed by The Children's Trust, the UK's leading charity for children with acquired brain injury of which Richard Hammond is Vice President.
The publications have been charitably funded and are available for order for a handling charge of £3.50 for one book and £1.50 for each subsequent book from www.thechildrenstrust.org.uk/books
The Children's Trust
The Children's Trust is the UK's leading charity for children with brain injury. Based in Tadworth, Surrey, the Trust provides expert rehabilitation, education, therapy and care to support children and families from across the UK.