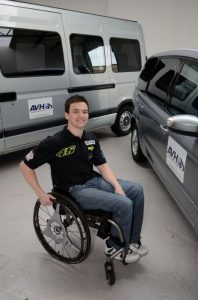 Disabled racing driver, Aaron Morgan, has won a national award for his work helping young people to overcome adversity.
Aaron, 21, who was paralysed following an accident at the age of 15, received the 'Get Going Award' at this year's Disabled Motoring UK Awards, which recognises those who inspire and engage disabled young people.
The awards, which took place at The Heritage Motor Centre in Gaydon, are run by campaigning charity Disabled Motoring UK and include categories such as Mobility Sport Award, Effective Enforcement Award and Mobility Product Award. They celebrate individuals and organisations making a difference for disabled drivers, passengers and Blue Badge holders across the UK.
The award was sponsored by Enable Holidays and presented by Lynne Kirby. Judges praised Aaron's advocacy work which includes helping to inspire and engage young people with disabilities in order to improve their mobility at national Get Going Live events run by Disabled Motoring UK.
Commenting on his award win, Aaron said: "It was an absolute honour to be recognised with this award. There are certain elements of disabled driving which are still not common knowledge for instance, many disabled people still do not know they can take their driving test earlier than able-bodied drivers and that they can hire, as well as buy, specially adapted vehicles. By addressing these gaps in public perceptions through my racing and Adapted Vehicle Hire, I hope I can continue to show disabled young people that the sky is the limit and they can achieve anything to which they put their minds."
After passing his driving test at the age of 16, at 18, Aaron became the youngest ever disabled person to be awarded a Motor Sport Association National B Racing Licence. Now, at 21, he races a specially adapted vehicle and in 2011 completed his first full season in the GAZ Shocks Production BMW Cup, the only disabled driver in the championship.
As well as racing adapted cars, Aaron also works for Adapted Vehicle Hire – the largest supplier of adapted vehicles for rental in the UK. Part of Aaron's role is talking to disability charities and raising awareness of AVH, which helps disabled people to maintain an independent lifestyle.
Adapted Vehicle Hire www.adaptedvehiclehire.com supplies wheelchair accessible and specially adapted vehicles to the general public and through the Government's Motability scheme. The company has a head office in West Drayton, Middlesex, and a further five branches across the UK.