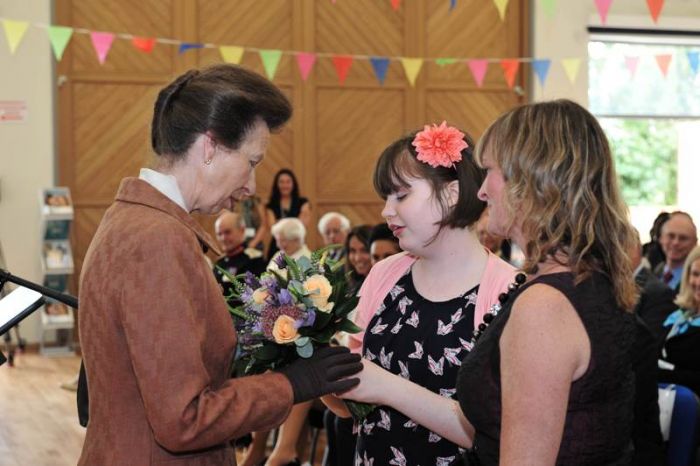 Her Royal Highness The Princess Royal officially opened RNIB Pears Centre for Specialist Learning yesterday in Ash Green, Coventry. The centre includes a school and children's home and offers individually tailored education, therapies and care to young people with complex needs who are blind or partially sighted.
The Princess will be given a guided tour of the school and its accommodation by the Royal National Institute of Blind People's (RNIB) Chief Executive, Lesley-Anne Alexander CBE and Dame Gail Ronson DBE, the newly appointed President of the charity. The Princess will see the centre's facilities which have recently undergone major redevelopment, before meeting young people and staff and unveiling a plaque to formally open the centre.
The brand new purpose-built school and accommodation is fully accessible and the specialist facilities include two multi-sensory rooms, an art and technology room, library, music room and physiotherapy and mobility areas as well as versatile classrooms for various teaching activities.
The children's home was recently awarded an Ofsted 'Outstanding' grade and the school attained specialist status in Special Educational Needs (SEN) for cognition and learning in 2011.
Lesley-Anne Alexander CBE, Chief Executive of RNIB, said: "It is a tremendous honour for RNIB to have The Princess Royal officially open RNIB Pears Centre. We are very proud of the centre and delighted that The Princess Royal will be able to see the work that we're doing here and meet our young people.
"We wanted to create the best learning and living environment for the students to ensure that each young person realises his or her full potential and the awards so far achieved are testament to this."
If you, or someone you know, has a sight problem RNIB can help. Call the RNIB Helpline on 0303 123 9999 or visit www.rnib.org.uk.