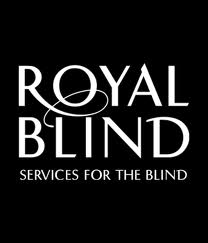 Paralympic athlete Libby Clegg, who was recently selected to compete in the Glasgow 2014 Commonwealth Games, has taken on a role as brand ambassador for charity Royal Blind.
23 year old Libby Clegg is a former pupil of the Royal Blind School who took up athletics at the age of 10. At age 16 she won a silver medal in the T12 200m at the 2006 World Championships in the Netherlands. She continued her athletic career by winning a silver medal in Beijing in 2008 and another in London 2012.
Libby's role as brand ambassador will involve helping to market Royal Blind's services and supporting fundraising campaigns.
Her first engagement will be this week during National Braille Week. Libby will be hosting an exhibition about Braille and alternative formats taking place at the Royal Blind School on World Sight Day, 10 October.
Libby will also be the face of Royal Blind Week, a fundraising week taking place from 24 February – 2 March 2014.
Libby Clegg said: "I was so excited to be asked to do this," she says. "If it wasn't for the Royal Blind School I don't think I'd be the person I am now. The school has taught me so much and the staff did so much more than teach me.
"I didn't come to the Royal Blind School until I was 12. I was a really shy person with very low self-esteem. I had not had the best experience at mainstream secondary school and felt very isolated and different. At mainstream, they tried to cater for my needs and I wasn't the only visually impaired person at the school, but they didn't have the facilities or staff. I often ended up with the naughty kids. When we moved and I came to the Royal Blind School, they taught me to value myself and never to be embarrassed by my disability."
Davina Shiell, Marketing and Fundraising Manager at Royal Blind said: "We are delighted to have Libby on board to represent Royal Blind and the services that we provide to blind and visually impaired people of all ages. Through Libby's experience of studying at the Royal Blind School, we will be able to reach wider audiences to communicate the difference that attending our services can make to the lives of blind and visually impaired people.
"Libby will be a great asset to promote Royal Blind Week in February 2014, when we will be reaching out to companies and individuals across Scotland to fundraise for Royal Blind."
In her ambassador role, Libby will represent all of Royal Blind's services, which include the Scottish Braille Press, Braeside House, Kidscene, and Forward Vision as well as the Royal Blind School, providing support for blind and visually impaired people throughout their lives.
Libby continued: "I know how important it is to be a part of Royal Blind after going to the school and although I don't know too much yet about the other aspects of the charity, I am already finding out," says Libby. "I have visited the Braille Press and seen all the amazing things that happen there."
Royal Blind is a registered charity that runs services for blind and visually impaired people throughout the UK. Our vision at Royal Blind is to make a significant contribution to building a community in which blind and partially sighted people, including those who also have other disabilities, are fully included and lead fulfilling lives. www.royalblind.org