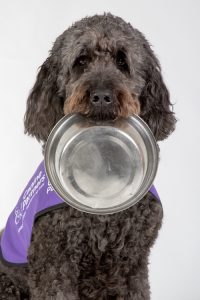 Gather your friends, family and colleagues together during October and organise a party in aid of Canine Partners to transform the lives of people with disabilities.
It could not be easier to host your own party, simply invite your guests, prepare some food and drinks and enjoy your time together while making a difference.
All the proceeds from the event will help national charity Canine Partners to train more assistance dogs to carry out tasks for their disabled partner, such as taking clothing in and out of a washing machine, retrieving items, dressing and undressing their partners and fetching help in an emergency.
There will also be an online auction running during October with prizes including two £100 vouchers for Waitrose Cookery School, a one week ski holiday in the French Alps and a professional pet photograph.
Holly Bryan, Events and Challenges Co-ordinator at Canine Partners, said: "Hosting a party is a simple way to catch up with friends, families and colleagues while making a life-changing difference to others.
"All donations from guests who attend our parties across the UK will go towards training more assistance dogs and transforming more lives during the Charity's 25th anniversary year.
"The parties can big as big or as small as you want. Maybe a themed event such as Halloween or Hawaiian, where you can show off your culinary skills, or a modest get together over a few drinks – the choice is yours. So why not join Canine Partners biggest party ever?"
To find out more about organising your own party or our online auction please visit caninepartners.org.uk/25 or contact Holly via 01730 716013 or hollyb@caninepartners.org.uk.
Canine Partners, which receives no government funding and relies solely on donations, was formed in 1990 and has to date partnered more than 560 assistance dogs across the UK. These amazing dogs have changed the lives of those they are helping: restoring independence, giving family members peace of mind, allowing their disabled partners to return to work and even saving lives by responding in emergencies.
Canine Partners has a wonderful selection of Christmas cards, unique toys and gifts through its online shop caninepartners.org.uk/shop. There is also the opportunity to sponsor a puppy for as little as £1 a week at myamazingpuppy.org.uk. The recipient will receive regular photographs and updates throughout the puppy's training, right up to when they have been partnered with one of our disabled applicants.
About Canine Partners

Canine Partners is a registered charity that assists people with disabilities to enjoy a greater independence and quality of life through the provision of specially trained dogs, whose well-being is a key consideration.  Find out more at www.caninepartners.org.uk