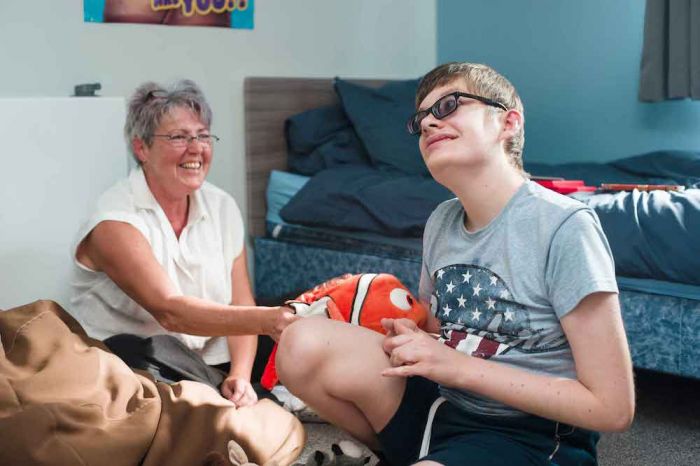 The Care Inspectorate has praised the 'positive and happy atmosphere' of Royal Blind's new residential home for disabled adults in its first ever inspection of the service.
Allermuir, in Edinburgh, was opened in August 2016 as an extension to Royal Blind's Adult Services, to provide a home for life for adults with sight loss and additional disabilities who need 24-hour support.
Now the Care Inspectorate has given the home a rating of 5 (Very Good) across all four themes – as residents and staff are celebrating its first anniversary.
Julie Jamieson, Head of Care (Children and Adult Services) at Royal Blind, said she was 'delighted' with the report. She said: "I am very proud of the team who have worked so hard during the past year to make Allermuir feel like home for our residents.
"The aim of opening Allermuir was to provide a highly specialised service for people who would otherwise struggle to find an appropriate place to live with the right support, so it's fantastic to read such a positive first report."
The Care Inspectorate reviewed Allermuir's performance in a number of areas including quality of care and support, environment, staffing and management and leadership during its inspection in July.
The report produced by the Care Inspectorate highlighted the good relationships between residents and staff.
It says: "We saw that staff knew the adults very well and responded appropriately to their wishes and needs. We found that the service had a very positive and happy atmosphere, with a purposeful rhythm to daily life."
It also commented on the wide range of activities including horse riding, trampolining, music and shopping, and the residents' inclusion in the local community.
It adds: "We found that transitions from school and home to Allermuir were managed well and sensitively, with staff, on occasion, transferring with the adult from their previous placement. This promoted consistency of care and expectations."
It comes after Royal Blind's first service for vision impaired adults, Forward Vision, was also rated as 5 (Very Good) by the Care Inspectorate in June.
Royal Blind is Scotland's largest charity supporting people with visual impairments. We run a number of services for blind and partially sighted people, the largest of which is the Royal Blind School. Our vision at Royal Blind is to make a significant contribution to building a community in which blind and partially sighted people, including those who also have other disabilities, are fully included and lead fulfilling lives. www.royalblind.org