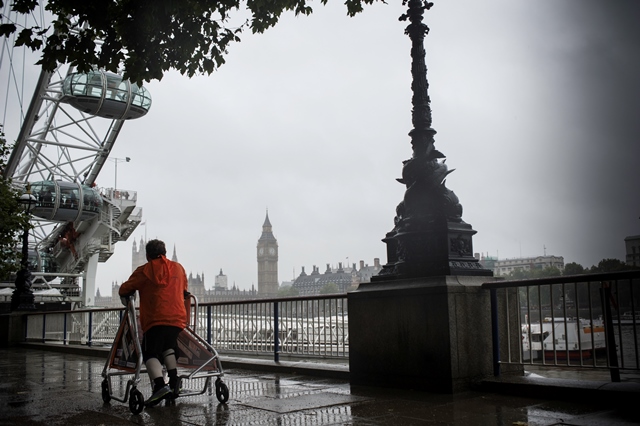 A man who's lived with multiple sclerosis (MS) for more than 30 years and can only walk 10 metres with a stick and the help of his wife has walked 60km through London in nine days.
Stuart Nixon has used a wheelchair for 15 years but on Sunday 13 October finished his amazing walk – completed using a specially designed walking frame – in a bid to raise more than £60,000 for the MS Society, to celebrate the charity's 60th year.
Stuart's challenge, named 'Stu Steps Up – 100,000 steps for MS' in recognition of the 100,000 people in the UK living with MS, took place along the Jubilee Greenway in London. Stuart walked from St. James's Park to the Olympic Stadium and back from Saturday 5 October to Sunday 13 October.
Stuart only has mobility in one leg, so students at Northumbria University designed a bespoke walking frame for him to use. It supports his immobile leg while his 'good' leg, and upper body strength, propelled him along. He, along with his support team, walked for 6 hours a day.
On finishing the challenge, Stuart – who's an MS Society Trustee from Gwent in Wales – said: "I wanted to do something significant, and this has been a remarkable experience. Looking back over the last nine days there have been massive highs and lows; on the end of the second day I wondered whether we were going to finish it – I got within 100 metres of the day's end point and could not put another foot down. But, as the days passed I could feel myself getting stronger and fitter and I knew we could do it."
He continued: "Walking down the mall to the finish was one of the most fulfilling and uplifting experiences of my life. It was beautiful to share that with so many of my friends and family. People have used the word 'inspiration' to describe me and what I've done; I find that incredibly humbling".
The 49-year-old who's married with three sons, completed the walk alongside his wife Marie, eldest son Sean and fellow volunteer Tony Knappett.
He said: "The support has been unbelievable, not just from friends and family but from complete strangers who've seen us on the walk and stopped to cheer us on or ask how they could support us. That's been the best part – meeting people, spreading the word – it's been wonderful."
Stuart has already raised thousands for the MS Society and has secured support from Arora Hotels (who own and operate Arora and Sofitel Hotels at London Heathrow and Gatwick Airports), which should raise £25,000 of his £60,000 target
You can sponsor Stuart at: www.justgiving.com/stustepsup. Or you can text SNMS60 to 70070 with your donation.
The MS Society is the leading UK charity for the 100,000 people living with multiple sclerosis. Most people are diagnosed in their 20s and 30s.
We're fighting to improve treatment and care to help people with MS take control of their lives. And with generous support from our donors and fundraisers, we're funding research to help us beat MS for good.
For more information go to: www.mssociety.org.uk