What: Business Academy Event
When: Thursday 13 February from 5pm to 8pm
Where:  RBS Headquarters, 250 Bishopgate, near Liverpool Street Station, London EC2M 4AA
Further information: www.scope.org.uk/business-academy-event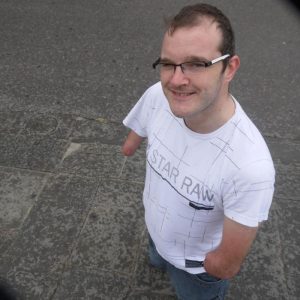 Disabled people dreaming of starting their own business, and those who have already taken the plunge, are invited to a free event presented by NatWest, and national disability charities, Scope and Livability in London next month (13 February).
Those attending the Business Academy event will get the chance to get face-to-face advice from experts across a wide range of topics, as well as the opportunity to network with like-minded entrepreneurs.
There will also be advice and information about what additional support is available to people who are self-employed and disabled, and a choice of seminars where inspiring speakers and business experts will go into more depth on their particular areas of specialism.
Paul Carter, the founder of Little Man Media will be speaking to people about his experiences of being self-employed and disabled in the creative industries.
Paul is an experienced film-maker, producer, journalist and presenter and has experience of working with all major UK broadcasters. He was also a producer on the BAFTA-winning London 2012 Paralympic Games coverage on Channel 4.
Paul said: "It can be very tough out there running your own business, especially in the current economic climate. And when you have additional challenges posed by an impairment, those challenges can be compounded. But the benefits are huge, and being your own boss can give a level of flexibility that can't necessarily be found elsewhere in regular full-time employment.
"I hope that by supporting this event I can show that running your own business, though far from being an easy ride, is a goal that anyone can achieve with the right support."
Vittoria Morgan, National Employment Manager at the disability charity Scope said: "Disabled people face huge challenges when it comes to finding work.
"There's a massive shortage of employers who will offer roles with the little bit of extra flexibility they might need.
"The statistics show that 24 per cent of all disabled people are self-employed, and that 45 per cent chose to become self-employed because they could not find alternative employment.
"We hope that this event will inspire other disabled people to overcome the barriers to work they face, and perhaps become their own ideal employer.
Alice Morris, Head of the Livability Enterprise Agency, said: "Many disabled people have the talent and ideas needed to start a successful business but they need to be given the opportunity and the tailored support to turn this into reality. It is also crucial that entrepreneurs who have already become self-employed are supported in the early planning stages to ensure the longevity of their business.
"The Business Academy event is a perfect opportunity to get practical, professional advice and to network and exchange ideas. We hope that many disabled people who are or want to become self-employed will join us and take part in this exciting event."
Nick Howe, Enterprise Manager, Diversity in Business at NatWest, said: "We're very grateful to the many business experts who have helped us put on this event. New start business owners often comment on the lack of face to face advice at such an important time, so this event meets those needs. It is particularly pleasing to be able to join forces with Scope and Livability to not only offer support to new business owners, but also to disabled people who have started or who are thinking about starting a new business."
For more information visit: www.scope.org.uk/business-academy-event
To register for this free event, follow this link
About Scope

Scope works with disabled people, of all ages, and their families, across England and Wales. We offer practical, everyday support and deliver campaigns that can change lives. Our vision is a world where disabled people have the same opportunities as everyone else. Together we can create a better society. www.scope.org.uk

About Livability

Livability is the largest Christian disability charity in the UK. We work with adults and children with physical and learning disabilities helping them to lead full, independent lives and maximise their own potential. The Livability Enterprise Agency

offers the opportunity for budding entrepreneurs to start thinking about self-employment through one-off workshops as well as longer courses covering business planning, book-keeping and marketing. They also receive advice on the benefits and other financial help they are entitled to while making the transition to self-employment. Once a client becomes self-employed, the service provides business mentoring for up to 6 months in order for the business to have the best possible start. The Agency works closely with Jobcentre Plus. www.livability.org.uk