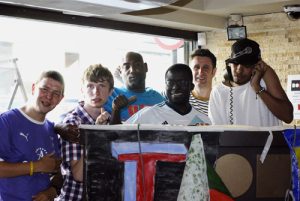 Aspiring Islington DJs and rappers rocked an Old Street nightclub this week (Wednesday 10 July), after fine-tuning their skills on a Superstar DJ course run by the learning disability charity Mencap.
The 'Islington Social Crew' learnt all about how to get the party started and organised the disability-friendly night at the Nomad Club after completing 12 sessions of training.
The DJ Superstar sessions are just one activity offered as part of Mencap's Me Time leisure programme.
Me Time aims to reduce the sense of loneliness and isolation that some people with a learning disability can face by organising a wide range of fun leisure activities that help people grow in confidence and make new friends.
DJ Globe who played at the event last night said:
"Being part of the Islington Social Crew is one of the best things I've ever been a part of. The crew are great and I consider them like my best friends now.
"The DJ'ing is great, but what I've loved most is teaching my friend DJ Danny how to spin and mix. Soon I will have him scratching."
Mencap's Johny Brown, who co-ordinated the project said:
"This is the fourth time we've run the Superstar DJ course and it's going really well. Three of the DJ's from our last sessions are now mentoring a new crop of DJ's, and a lot are playing at other nights now.
"It's fantastic to see people learn and grow in confidence, and we're always looking for other local people with a learning disability who want to get involved in Me Time activities like this."
Get in touch with Mencap Direct to find out more about Me Time leisure activities that are available. Freephone 0808 808 1111 or email help@mencap.org.uk