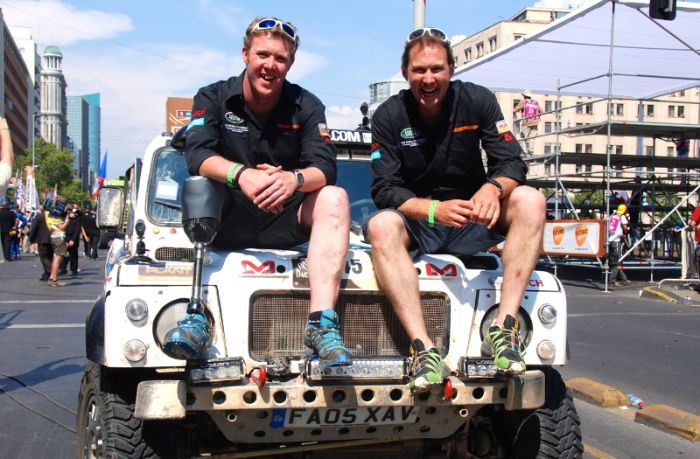 Race2Recovery, the group of predominantly injured soldiers who formed a rally team to raise funds for Forces charities, were today celebrating making history by becoming the first ever disability team to complete the world's toughest race – the Dakar Rally.
The team's Land Rover Defender-based Wildcat race vehicle and its crew, of driver Major Matt O'Hare and co-driver Corporal Phillip Gillespie, completed their sensational achievement as they crossed the finish line of the final stage in Santiago, Chile, on Saturday evening to signal the end of an extraordinary two weeks of racing that saw the team's other three Wildcat vehicles fall out of the race at various stages along the way.
Major O'Hare and Corporal Gillespie were quick to praise their teammates, including the mechanics and support team, as they spoke shortly after completing the final stage.  Major O'Hare, 32, originally from Hereford and currently based in Earlsfield, London, said: "It's not quite sinking in that we've actually done it.  I'm ecstatic and am so proud and pleased for the whole Race2Recovery team.  Our mechanics and support team have kept us in the race and their work and dedication was second to none.  Our other drivers and co-drivers who were forced to retire earlier in the race became an integral part of the support team as we continued the challenge and so this really is a team success.  To complete the Dakar Rally is an incredible achievement in itself, but to become the first ever disability team to cross that finish line lifts the achievement to a whole other level."
Corporal Phillip Gillespie, 24, from Ballymena, Northern Ireland, who is a leg amputee as a result of injuries sustained in Afghanistan, said: "We have found out first-hand why they call the Dakar Rally the hardest race in the world.  It has pushed every single one us to our limits and beyond.  To be able to stand here at the finish line and say we achieved what we set out to achieve, to become the first ever disability team to complete the Dakar Rally, feels magical.  Our team motto is 'beyond injury – achieving the extraordinary' and we've done just that.  I hope that we've been able to inspire people who may be facing difficulties through injury or illness.  The support we've received from everyone – our sponsors, supporters, families, friends, the military and  complete strangers – has been amazing and is testament to the ability and dedication of this team."
Race2Recovery Team Manager, Warrant Officer Andrew Taylor, 40, who suffered a serious back injury after being caught in a suicide bomb attack during active service in the Royal Army Medical Corps, said: "The support that this team has received, from back home and also from the people of Peru, Argentina and Chile, has been first class.  People from all over the world have been sending messages of support to the team and the closer we got to the finish the more these messages flooded in.  The Race2Recovery challenge really seems to have captured the imagination of the public and we can't thank everyone enough.  One of our biggest aims has been to raise money for Tedworth House Personnel Recovery Centre.  Many of our team members, their families and people we know have benefitted from the recovery process that supports our country's injured servicemen and women.  I would urge anyone that has followed our team, and is celebrating its success, to visit our website and make a donation to this fantastic cause".
Captain Tony Harris, 31, one of Race2Recovery's rally drivers who is a below the knee amputee as a result of injuries suffered while serving in Afghanistan, said: "To be standing here in Santiago knowing we've finished, two weeks after starting out on this epic journey, feels absolutely brilliant.  The team have shown huge dedication, going without sleep and putting in some serious hours of hard work, whether as the drivers, co-drivers or support team.  We're also very mindful that three of our members weren't able to follow the whole journey with us after being injured in a road traffic accident earlier on the event.  We're very grateful that they have all made a good recovery but our thoughts have always been with those others involved in the accident who were less fortunate and our sympathy remains with their families."
The Race2Recovery team's four Wildcat race vehicles took to the start line in Lima, Peru on the morning of Saturday 5th January, signalling the start of 15 days of racing 9000km over extreme mountain and desert terrain.  The first car eliminated from the race was that of Captain Tony Harris and his co-driver Cathy Derousseaux, who were disqualified after they did not pass sufficient way points on Stage 2 after having experienced mechanic issues during that stage.  A few days later, the race car of driver Justin Birchall and co-driver Corporal Tom Neathway was forced to retire after mechanical issues caused by a particularly punishing Stage 4 that saw a host of other vehicles also retire.  On Stage 6, the third car of driver Ben Gott and co-driver US Marine SSgt Mark Zambon hit a ditch at speed and rolled.  Whilst they avoided any serious injury the damage to the car meant they were unable to continue the race.
However, the team's Wildcat vehicle 'Joy', donated to the team by the Peter Harrison Foundation and named after Peter's wife, Joy, who sadly passed away in September last year, remained firmly in the race.  Suffering from some over-heating problems during the first half of the rally, the team were regularly forced to do more of their driving at night.  However, the team's mechanics were able to do major work to the vehicle on the event rest day, fixing a number of issues and enabling Major O'Hare and Corporal Gillespie to make great progress through the second week.
The Race2Recovery team will now remain in Santiago, Chile, for the official end to the Dakar Rally – a parade followed by a podium celebration that will take place on Sunday 20th January.  They will then stay in the city for several days in order to recover from their challenge and also pack their vehicle fleet so that it can be shipped back to the UK.  The team is due to arrive in the UK later this week.
The Race2Recovery team has rapidly risen to become a fully functioning rally raid team in only 18 months.  Originally beginning their campaign with one Land Rover Freelander and a handful of members, the team now totals 28 people with four Wildcat race vehicles and fleet of support vehicles including a 4×4 truck that will race the course in order to support the race cars, plus 8×8 support trucks and a number of Land Rover Discovery vehicles to help move the support team and mechanical equipment.
Race2Recovery is backed by a number of high-profile sponsors including Land Rover, Google, Bosch, Orange Plant and MIS Motorsport.  The team also received Royal backing when, in November, it became the first ever recipient of a grant from the Endeavour Fund, set up by the Royal Foundation of the Duke and Duchess of Cambridge and Prince Harry.  The team was also joined in South America by Gaucho Productions, who were capturing all the drama and adventure for a forthcoming documentary series – to be screened on TV soon.
The team operates to the motto 'Beyond Injury – Achieving The Extraordinary', and set up its Dakar Rally challenge in order to inspire people who may be injured, ill or facing adversity.  Through its racing activity, Race2Recovery has been raising money for Tedworth House Personnel Recovery Centre, one of six Personnel Recovery Centres that have been established as part of the Defence Recovery Capability.  The Defence Recovery Capability is an MOD-led initiative in partnership with Help for Heroes and The Royal British Legion to ensure wounded, injured and sick servicemen and women have access to the key resources they need as they recover.
The Race2Recovery team aims to continue its charitable fundraising way past the end of this year's Dakar Rally.  The official book, 'Race2Recovery: Beyond Injury, Achieving the Extraordinary', will be published by Haynes and FireStep Publishing in March 2013.  £2 from every copy will be donated to Help For Heroes (www.haynes.co.uk/race2recovery).
Donations to the Race2Recovery fundraising campaign for Tedworth House Personnel Recovery Centre can be made at www.race2recovery.com or to donate £5 via mobile text RACE20 £5 to 70070. The team are also encouraging people to follow them on Google+ (Race2Recovery), Twitter (@race2recovery) and Facebook.
All images Copyright Gaucho Productions