When sports enthusiast Alison Mead lost her sight, she was worried that she'd never run again, but an introduction to Roz was the start of a new running journey for both of them. In a guest post from Join In UK, Alison and Roz share their story.
Alison
In 2005 Alison lost her sight following a brain haemorrhage and four strokes. After putting on a huge amount of weight, she looked for ways to find support and get active once more.
"I have always been active and enjoyed swimming, badminton and table tennis, but sport of any kind no longer seemed an option. I have Ted my guide dog but I am single, have few family and usually no help. So I contacted British Triathlon looking for a way to take part in sport again, and they put me in touch with a wonderful woman called Roz McGinty.
Roz had not had any training as a guide so we just went for a few runs on our own along a path near my house to get used to running together. Guides are often just as nervous as me, maybe even more so when we first run together.
In November 2014, Roz guided me at my first parkrun, in St Albans. When I crossed the finish line I remember being really pleased that I had been able to complete the course and I wanted to do another one.
Then in January this year, South Oxhey parkrun started within walking distance from my home. Lesley Keddy, one of the Ricky Running Sisters – a local running group – coordinates a list of volunteers from the club who guide me.
Lesley also tries to find someone willing to look after Ted as I can only run if somebody will hold him. Since going along to the third event I have not missed a single parkrun day, having run 20 times and also volunteered as a course marshal and barcode scanner.
In all the things I have ever volunteered in, it has always been the friendship and enjoyment experienced by everyone involved that has been the most valuable.
The atmosphere at parkrun is fantastic and I love being with other people who are running and encouraging each other. I enjoy meeting people who have similar interests and am making new friends. Not being able to see where I am is a bit unnerving sometimes but the enjoyment of running is so much greater than the nerves. I rely on sound – listening to the directions from my guide and feeling what I can through the tether or contact – and I only know who the runners or volunteers are when they tell me. I'm not worried about tripping or falling when I run because bumps and bruises are more likely to happen when I'm walking along the street. I run because it makes me feel physically and mentally stronger.
This September, Roz guided me in a sprint triathlon. I would love to step up to an Olympic distance triathlon, and plan to run a marathon one day. parkrun has a huge part to play in achieving those goals.
Without Roz volunteering to guide me on triathlons or any of the disciplines I would not be able to take part in some of the sports I love, and without the team of people who volunteer to guide me when I run at parkrun I couldn't take part in that.
My advice to any visually impaired person who wants to try running or volunteering is three simple words – do a parkrun! If you don't have anyone to guide you, ask your local parkrun if someone is in a position to help. Running helps physically and mentally. It increases confidence. And you will make some wonderful friends."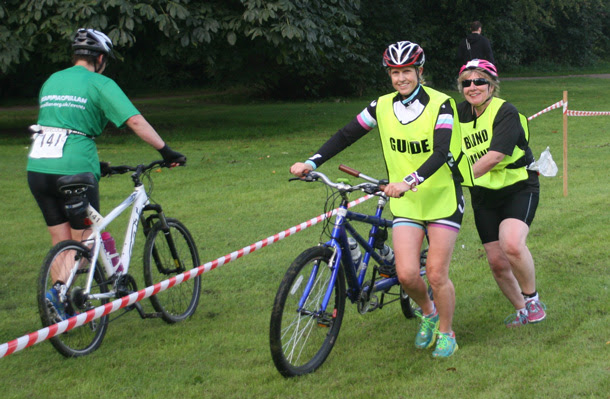 Roz
After training in water handling for paratriathletes, Roz put her name down on the British Triathlon Federation's list of potential guide runners. She'd been approached before but when they got in touch about Alison, Roz felt the timing was right to fully commit to lending a hand.
"I was approached by the British Triathlon Federation↑ and asked if I would consider guiding a local visually impaired lady who was keen to get involved in triathlon. I had been approached before but logistically the person needed to be close enough to my home or work for me to be able to commit to helping.
Alison lives relatively close to me and so I agreed that I would arrange to meet her and see how I could help. We exchanged e-mails for a while before we met. I made it clear that my time was relatively restricted and was hesitant to make a promise that in reality I could not deliver. It seemed to me that Alison was extremely grateful even if I could only commit to helping her once a month. Alison expressed an interest in taking part in a triathlon and as she has a great set up at home with a treadmill and an exercise bike, I knew that this would be feasible.
We decided to start by running last autumn. I had no training as a guide but I had Alison who was a brilliant teacher! She has a little rubber device with a handle at either end. We used to just hold a handle each but over time I have adapted to putting it on my elbow. There is a disused railway line near to Alison's house and we went there and started running. I tried to just describe the terrain and any holes or puddles and that was it – we were away!
Running outside is very different and much more difficult for Alison than the treadmill she had been used to so we employed a run/walk strategy. Alison was grinning from ear to ear the whole time. She absolutely loved it and so did I. How could I not enjoy it when I could see how happy it made Alison?!
We ran/walked for five miles on our first outing. We ran like this for a few more times, then I suggested going to parkrun. I knew there was one in St Albans and I felt that running surrounded by so many others would be good for her. Also getting an official time made it feel like more of an event. We had such a great day, Alison really enjoyed it. We had a few funny moments trying to avoid falling into the lake! People running by us and other park users were giving us so much encouragement that we were both buzzing afterwards.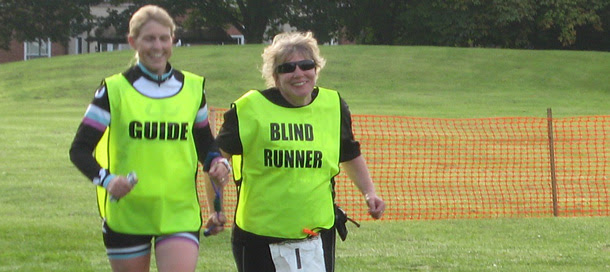 Unfortunately it was logistically quite difficult. We had the best part of an hour's driving before the event, so sadly it was not feasible to do it every week. We were delighted when we heard that South Oxhey started an event. This is a short walk from Alison's house and has made such a difference. We went to one of the first events and Alison has not missed a Saturday since. I've also run the South Oxhey parkrun 26 times and volunteered eight times.
I have guided for Alison a few times there but opportunities for additional guides have arisen as a result of attending parkrun. Alison can walk there on her own and as I have been unable to guide every weekend, Lesley Keddy has been superb at organising a rota of other runners to guide Alison. Through parkrun, Alison's fitness has increased dramatically and through meeting people there, Alison has also joined a local running club.
With others able to guide Alison regularly it has freed up some time for me to go swimming and cycling with Alison. It's great fun. Alison loves a challenge and is one tough cookie. Can you imagine swimming in a public pool with other swimmers around and lane ropes to contend with and not being able to see where you are going?! It's a challenge but we manage it. I have to keep alert and stay at her side and let her bump my shoulder on each stroke with her hand to keep her in a straight line.
I cannot recommend guiding enough. It is just so rewarding. I used to hate running 5K but these have truly been the best 5Ks I have ever run.
parkrun has played an enormous role in ensuring that Alison's triathlon dream has become a reality. Alison has lots of ideas about the future and events she would love to do if the opportunity arose. I would dearly love to help her make these dreams come true."
Indeed, by the time of writing, Alison and Roz completed the triathlon they were training for; and it went exceptionally well.
– Search for your local parkrun on their site to lend a hand.
– Or sign up to the Big Help Out for national volunteering opportunities and ways to help clubs near you.