After being unable to hold this year's Kidz to Adultz event, organisers are preparing to go virtual next week and there's still time to register.
For the first time in 20 years, Kidz to Adultz have been unable to take the exhibition to the exhibition floor due to the ongoing pandemic.
However, make sure to prepare yourself for a week of excitement and activities from Monday 9 November to Friday 13 November during Venue to Virtual.
REGISTER
Going from the Venue Floor to a Virtual Tour, this year's event will commence on Monday (9 November) with free virtual access to exhibitors ranging from organisations, companies, voluntary and support agencies all showcasing their products, equipment and providing detailed outlines of their services.
There is still time to register for free as a visitor here.
The online facility will showcase a number of live videos at various timeslots throughout the week – there is a lot to look forward to.
Make sure to register today to secure your spot for the week and you'll get updates on what to expect and receive an e-showguide right into your inbox.
HIGHLIGHTS
Dedicated to children and young adults with disabilities and additional needs, Kidz to Adultz is an event not to be missed.
This year's virtual event still has a host of exciting exhibitors not to be missed: from rehab services, Family Fund, solicitors, Motability, Jiraffe, The Sleep Charity and many more. 
You'll also be able to download free copies of the latest disability titles, including Enable – the UK's leading disability and lifestyle title.
HOW TO
Getting involved with the exhibition doesn't have to be daunting if you're not confident when using technology.
After registering, you be sent a link to the Kidz to Adultz website with your own specific password prior to the event starting.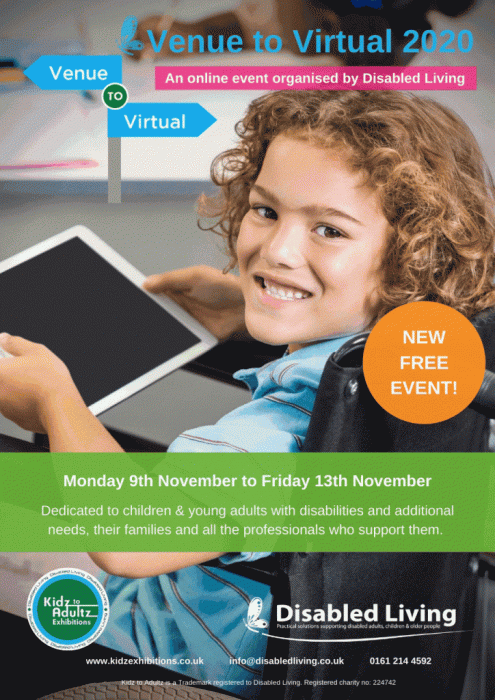 Once you've logged in, you will be able to see a timeline of information and sessions. When an exhibitor's timeslot nears their webpage will go live – you can get involved and watch in as many time slots as you like!
Although we can't be together in person, each video and presentation will have a dedicated Q&A chat facility where you can ask questions to the presenter, or email the organisation directly with the 'contact' function.
Top tip: The Q&A chat facility will only be available during an exhibitor's allocated time. 
Remember to register to ensure you don't miss out here!