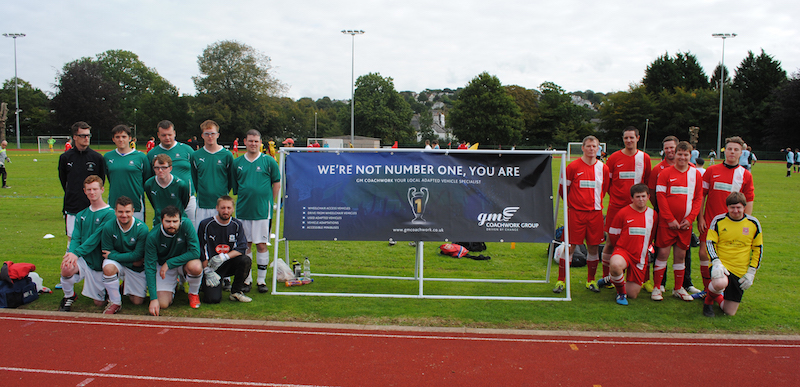 Specialist vehicles manufacturer GM Coachwork is very proud to sponsor the Devon Ability Counts football league. The league is run for men, women, and children with disabilities and the company will also sponsor the South West Powerchair Football League for the coming season.
The Ability Counts league is for players with a disability who want to play football. The league has mens and ladies football matches, and caters for all levels of ability. Fixtures are held approximately once every six weeks during the season, with teams from across Devon playing several matches during the day at each event.
Nigel Collins, GM Coachworks Managing Director, said "We're delighted to sponsor this league. The FA has done a great job of organising these matches and getting so many people together to participate. GM totally support all the FA is doing with this league."
Ashley Harris, Devon FA Disability Development Officer said: "It is great to work in partnership with a local company who has the passion and commitment to develop Disability Sport. GM Coachwork will sponsor the Devon Ability Counts League and also the newly formed South West Powerchair Football League for the 2015/2016 season. The leagues will really benefit from this funding to support the facility hire and staffing at all of the league festivals. With 7 adult league festivals, 13 junior league festivals and 5 South West Powerchair Football league events across the season, GM Coachwork have supported both leagues to develop more opportunities for adults and children for the new season."
The opening matches of the season kicked off on Sunday 20 September with a great turn out at Tavistock College sports ground where 31 teams kicked off their games at 11am.
For a full list of fixtures visit www.devonfa.com/leagues/devon-ability-counts
GM Coachwork is a leading convertor of wheelchair accessible vehicles, drive from wheelchair vehicles and minibuses. GM also offer a wide range of mobility adaptations, vehicle hire, lift servicing and short notice day work fitting of seats, windows and niche applications such as dog vans, crew cabs and specialist applications. GM is an ISO 9001 quality business and a Motability Premier Partner and are proud to have achieved membership on the Customer First scheme approved by Devon County Council's Trading Standards team. GM employ over 100 staff dedicated to delivering an efficient and quality service. Find out more at www.gmcoachwork.co.uk