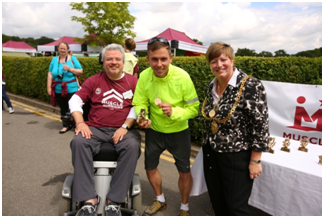 The beautiful grounds of Haileybury College in Hertford once again played host to the 4th annual Muscle Help Foundation Muscle Warrior 'Run for their Lives' 10k, 5k, 1k wheelchair circuit and 1k Family Toddle on Sunday 13th July.
Almost 150 runners and their families turned out for a fantastic fun day out which raised over £6,000 (and still counting!) for the beneficiaries of the Muscle Help Foundation, a small family charity dedicated to providing unforgettable, life-changing experiences for children and young people suffering with the muscle wasting condition, Muscular Dystrophy and allied neuromuscular conditions. Even the changeable British weather couldn't dampen the energy of the runners who, after a lively warm-up from DJ Steve 'Stoney' Stone, set off at a pace, with the sun shining down at last.
On hand to ease any ensuing aches and pains was massage therapist, Anna from Barefoot Therapies, and energy boosting protein drinks were given out by the team at Upbeat. Sally Page of Parties with Sally had the little ones entertained with bubble machines, puppets, music and stories.
Andy Peasey of Ruggerbugs also led some fun-filled games and activities for children while their mums and dads were competing. Ruggerbugs promotes a positive attitude to sport and fitness by encouraging pre-school children to participate in regular exercise from a young age.
Pictured above is Paul Hewett (centre), who came 2nd in the 10K race, with MHF CEO, Michael McGrath (left) and the Mayor of Hertford, Chantal Geall (right), who gave out the trophies to the delighted winners.
A group of MHF beneficiaries, ranging in age from 15 to 21 (pictured right), whizzed around the 1k wheelchair circuit with Jack Morrell (far right) coming in first to claim the prize.
Michael McGrath said: "The sun shone, the energy was buzzing and a great day out was had by one and all! Most importantly, our beneficiaries came along with their families and even brought their dogs along. They are what this is all about. We're delighted that we were able to raise over £6,000, enabling us to continue providing personalised experiences to our beneficiaries. We're especially grateful to a number of sponsors who covered all of our costs: Garden House Solicitors, Ashbourne Insurance Services, Herts Chamber of Commerce, John Fuller Associates, LV, Tass Enterprise Ltd, Vtesse Networks, Weaver Creative, Pearce's Farm Shop and Café, Sage Ward Lettings, Cariad Marketing, EYETunes Disco and Sainsbury's (Hoddesdon and Hertford). A huge thank you must of course go to all at Haileybury College for letting us take over their grounds once again this year."
About The Muscle Help Foundation, Muscle Dreams and Muscle Warriors

The Muscle Help Foundation was co-founded by Michael McGrath (aka Chief Muscle Warrior), who is the CEO of the charity. Muscle Dreams are highly personalised experiences designed to give children and young people in the UK whose lives are afflicted by the muscle-wasting disease, Muscular Dystrophy (MD) and allied neuromuscular diseases the opportunity to live a dream or fulfil a cherished ambition. www.musclehelp.com