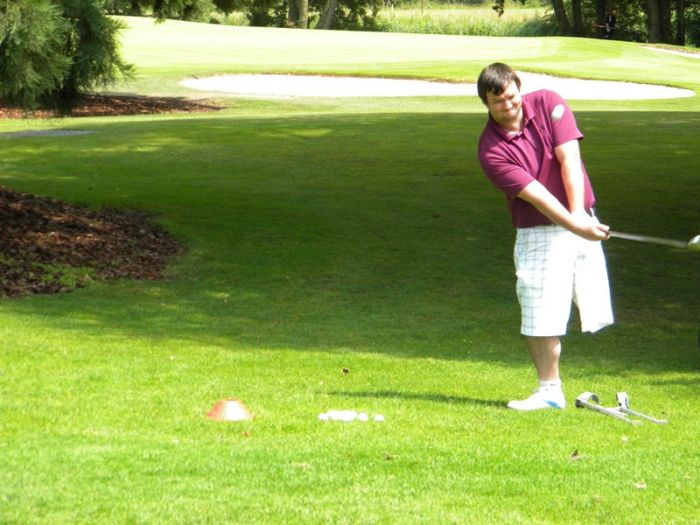 One-time Paralympic hopeful Chris Foster has set his sights on becoming a PGA Professional after seeing his dreams of gold medal glory dashed.
The 23-year-old former swimmer was named in the Team GB squad for the Beijing Games in 2008 but was forced to pull out just weeks before because of a serious shoulder injury.
The injury also put paid to his longer term competitive swimming but he hasn't let it limit his horizons and has instead focussed on establishing a different sporting career path by qualifying as a PGA Professional.
"I had just qualified for the Beijing Games when I tore the rotator cuff in my shoulder," said Foster, who had a leg amputated at the age of nine after a recurrence of bone cancer following 18 months of chemotherapy.
"It was a serious injury and to get back to and maintain that level requires 30 hours a week in the pool. I stopped swimming and started to play golf.
"My dad had played golf and I wanted a sport to give me the same kind of individual competitiveness that swimming did.
"I like team sports but I prefer the individual sports and the hard work required to do well.
"I am down to a handicap of nine and last year I told my coach that I want to turn pro and specialise in disabled coaching. I am working towards that goal."
Foster, is a member at East Herts Golf Club and is coached by PGA Professional Daniel Field.
Foster has also benefited from the coaching skills of Field, who is one of more than 150 PGA coaches to undertake the ISPS HANDA PGA Academy Programme which is specifically designed to improve their coaching skills with regard to blind and disabled golfers.
"It is brilliant what ISPS HANDA is doing in promoting golf for blind and disabled people," he said.
"It is giving us expertise and providing us and others with the opportunity to get out there and play golf."
Foster was one of a dozen blind and disabled golfers who took part in the latest ISPS HANDA PGA Academy, which was being held ahead of the recent Ladies European Masters tournament at The Buckinghamshire.
Dr Kyle Phillpots, The PGA's director of education and career development and joint chief operating officer, commented: "PGA Professionals are at the heart of golf clubs and can make a significant impact on peoples' lives.
"It is great to hear that Chris has been inspired firstly to play and develop his golf to a high level, but also to try to become a PGA Professional himself and try to inspire more people to play. I really hope he achieves this ambition."
To achieve PGA qualification Foster will undertake a three year Foundation Degree in Professional Golf, accredited by the University of Birmingham, which covers all aspects of golf including coaching, sports science, equipment technology and repairs, rules and tournament organisation, sports psychology and playing plus wider elements of the golf industry including retail, business and marketing,
Once qualified, PGA members also undergo a process of continual professional development to keep them up to speed with all the latest developments in the sport.
About The PGA

The PGA was formed in 1901 and is the world's oldest professional golfers' association. Based at Centenary House at the famous Belfry, the PGA now has more than 7,500 members including more than 1,600 working overseas in more than 70 different countries. The PGA is one of golf's leading bodies and committed to growing and developing the game nationally and internationally through its academies and the expertise of its professionals.

The PGA nationally and through its seven regional offices administers almost 1,000 golf event days annually. The Association was, in conjunction with Samuel Ryder and The PGA of America, the creators of the now world-renowned Ryder Cup Match. The Association remains a lead partner in these Matches along with the European Tour and the PGAs of Europe and is the trustee of the Ryder Cup trophy.