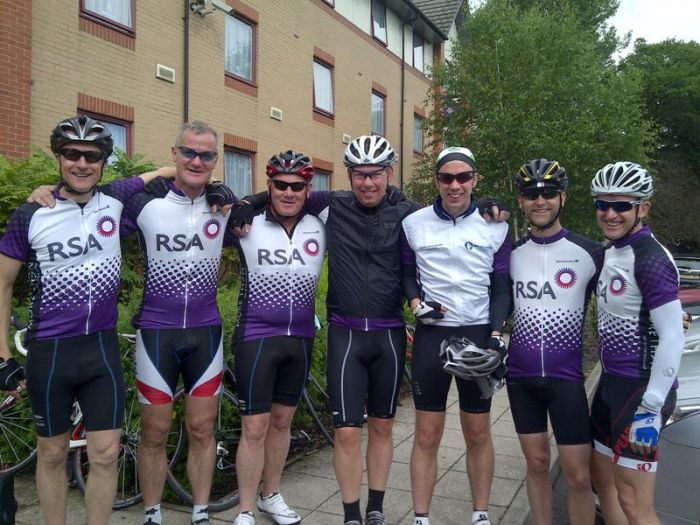 A team of cyclists have raised more than £14,000 for national disability charity Motability by cycling over 300 miles in three days across Yorkshire. The 'Cyclability' team, made up of cyclists from corporate supporters, have completed an annual cycling challenge to fundraise for Motability since 2007, and this year's total is their best yet, beating the 2012 total by £4,000.
In celebration of the Tour de France passing through Yorkshire in 2014, the fundraisers decided to test some potential routes that the Tour may cover. The three-day journey commenced in Preston last month, and continued through Otley in West Yorkshire and Harrogate, before concluding in Sheffield.
The team of riders included Andy Warren, Mark Jackson and Rob Clifford from global insurer RSA, Mark Wheeler and Owain Reed from Motability Operations, Nigel Doggett from Belron/Autoglass, Dave Young from law firm DWF LLP and Les Bickerstaffe from Howard Basford. The team were joined by Paula Newnes and Graham Ryan from RSA Motability, who were the support drivers on the three-day challenge.
"We are delighted to see that the team have once again exceeded expectations and raised a significant amount of money for Motability," said Paul Hirst, Director of RSA Motability. "RSA is proud to support the 'Cyclability' team, whose fundraising will greatly benefit disabled people around the UK."
Hazel Gotfraind, Director of Fundraising and Marketing at Motability, added: "This has been a record-breaking year for the 'Cyclability' team, and I would like to thank all those that took part, as well as the companies and individuals for their generous donations. Motability's charitable work relies on voluntary income and aims to raise around £2.5 million each year to help support disabled people who cannot afford the right car or adaptations for their needs."
More information about the Motability Scheme can be obtained by telephoning 0845 456 4566 or by visiting www.motability.co.uk.