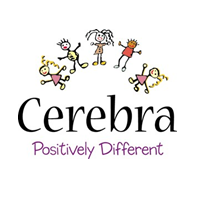 If you have a child with a neurological condition then national children's charity, Cerebra, can help you with some of the challenges daily life can bring. Living with conditions such as autistic spectrum disorder, cerebral palsy, epilepsy, ADHD and developmental delay can be hard – Cerebra can make it easier through their grants scheme and Innovation Centre.
The Cerebra grant scheme can fund up to 80% of the price of specialist equipment that will directly benefit the individual child.  This can be anything from play equipment, a touch screen computer or speech and language therapy. The charity recently funded a specialist trike for 15 year old Ashleigh who lives with a rare, debilitating genetic condition that seriously affects her independence. Mum Claire explains: "The trike has made a huge difference to Ashleigh because it means she can get around outside the home and play with other local children who are fantastic with her.  Importantly, it also provides a fun way for Ashleigh to exercise and helps maintain her fitness.  We never dreamed that she would be able to ride a bike, but she just loves it."
Sometimes the piece of equipment you need just doesn't seem to exist.  If you have a problem that you are struggling to solve, our Innovation Centre may be able to help by adapting an existing product or by building something from scratch.  Our creative team have conjured up some incredible inventions – a robust iPad case specifically designed for children with disabilities, protecting it from any bumps and bruises it might endure; a sturdy wooden rocking horse for riders of different sizes; a supportive trolley seat to help keep kids secure when families are out shopping and an adapted Trunki suitcase to carry around one little girl's vital oxygen cylinder. These are just a few of the things our CIC team have worked their magic on – they relish a challenge so if there's anything you're struggling with, please do get in touch.
To find out more about our grants scheme and Innovation Centre and to discuss how we can help please call us on 0800 328 1159 or e-mail info@cerebra.org.uk.
Cerebra supports children with neurological conditions and their families with a range of services from information and advice, a grants scheme, a stress helpline and a network of regional support officers and sleep counsellors. The charity also funds ground breaking research which will make a difference to the lives of children and their families now and in the future. To find out more please visit  www.cerebra.org.uk.
Cerebra is a unique national charity that strives to improve the lives of children and young people with neurological conditions, through research and on-going support.

For more information about Cerebra visit: www.cerebra.org.uk