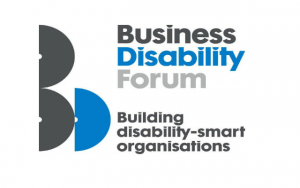 Business Disability Forum (BDF) is pleased to announce that the registration for its 2016 conference is now open.
Focusing on recruitment and retention of disabled employees, the conference will take place at the Royal College of Nursing on Wednesday, 20 April 2016.
The event will feature presentations from disability thought leaders, expert-led workshops and specialist speakers from the recruitment and employee development industry. Furthermore, BDF is delighted to announce that the Minister for Disabled People Justin Tomlinson will be opening the event and welcoming delegates from throughout BDF's membership organisations.
The conference is announced following the release of BDF's 2015 'State of the Nation' report on the retention and development of employees with disabilities' (supported by EY, Royal Mail, Lloyds Banking Group, Department for Work and Pensions, Equal Approach, de Poel Community and Remploy Employment Services). The research makes clear the specific actions any employer – no matter what sector or what size – can take to recruit, retain and develop their employees with disabilities and long-term health conditions.
Key findings from the reports have revealed that the three main barriers to the retention of disabled employees are:
Insufficiently skilled and confident line managers (53%).
Insufficient targeted development opportunities (33%).
Not enough awareness or visibility of disability in the workplace (40%).
The conference will provide delegates with practical guidance from organisations that have implemented successful approaches as well as first hand experiences from disabled employees. There will also be opportunities to network and share disability best practice with fellow professionals from throughout the recruitment, human resources and performance management industry.
The 2016 BDF conference is generously sponsored by Microlink. Microlink is a long-standing partner of BDF, and a pioneer in developing innovative solutions to help people with disabilities to succeed in education and employment. Over the last 25 years, the company has provided advice, assistance and equipment to hundreds of thousands of disabled people.
Speaking about the upcoming conference, Dr Nasser Siabi OBE, Chief Executive of Microlink, said:
"With the right systems, training and technologies in place, organisations can assist every employee to realise their full potential – improving both the lives of their staff, and their own efficiency and effectiveness. The delegates attending this conference are at the forefront of this win-win agenda, and Microlink is proud to be a part of the conversation."
Register your interest now to take advantage of BDF's early bird 25% discount ending on 28 February 2016.