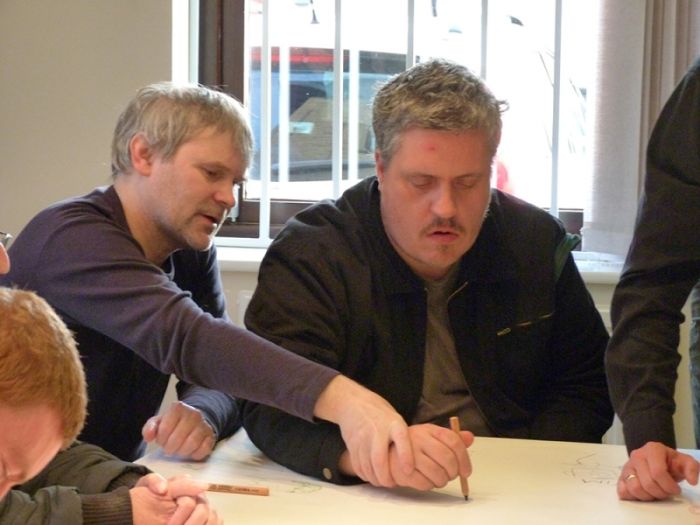 Tenants of Lancashire-based Progress Care Housing Association are set to benefit from free community art classes thanks to funding awarded by the Big Lottery Fund.
The Big Lottery Fund has donated over £325,000 from its Reaching Communities programme, which aims to help those most in need and build stronger communities, to support the
'Get Started' project, a community art initiative run by charity Artlink West Yorkshire for people with learning disabilities and mental health needs to boost their skills and confidence.
The three year multi-media arts project will be launched in January next year and will be rolled out across 13 of Progress Care Housing Association's independent living schemes in Leeds. The schemes provide supported housing for people with a learning disability or mental health need.
The project will see (number ) residents working alongside professional artists to produce artwork and exhibitions, helping them to develop their skills, increase confidence and well-being, and tackle isolation.
Alan Johnson, Managing Director of Progress Care Housing Association, said: "Progress Care Housing Association is proud to be working with Artlink on this exciting project, which will help residents to be heard and understood in a creative way whilst boosting their confidence and self-esteem."
"It is fantastic to receive this funding at a time when community initiatives are being cut back."
Sylvie Fourcin, Director of Artlink West Yorkshire said: "Thanks to the Big Lottery Fund, we are now able to set up a three year project aimed at enhancing the well-being of residents with mental health needs or a learning disability and reducing isolation.
"It is absolutely fantastic that we can work together with our partners Progress Care Housing Association to deliver this project."
Progress Care Housing Association is one of the UK's leading supported housing providers and has a national reputation for providing high quality housing solutions for individuals with a range of supports needs. It's flexible, innovative approach enables people with learning and physical disabilities, and those experiencing mental health problems, to lead a fulfilling and dignified life in their own homes.
Over the last 14 years Progress Care Housing Association has expanded its tenant base from 90 tenants in 1999 to 3112 in 2013, working across England and Scotland with over 100 different Local Authorities. Progress Care Housing Association is also the housing management sub-contractor for the Leeds Independent Living Accommodation Company (LiLAC).  This involves managing 343 units of accommodation in Leeds for people with mental health needs or learning disabilities, as well as four schemes for children. It also manages a women's refuge, which provides secure accommodation for eight women and 16 children escaping domestic abuse.
Artlink West Yorkshire deliver quality artistic initiatives for vulnerable members of the community, such as mental health service users, physical and learning disabled adults, patients with eating disorders, refugees and asylum seekers, women suffering domestic abuse, young mothers, older people with dementia and their carers, young people at risk of exclusion, and individuals involved with the criminal justice system. With all its projects, the focus is on enhancing positive mental health and supporting individuals to develop sustained coping mechanisms.
You can follow the progress of the project on Artlink's blog at www.artlinkwestyorks.org and on Twitter at @artlinkwestyork and @ProgressHG