Presenting Enable's official World Changers list – the top 15 individuals who have big plans to change the world for people with disabilities in 2017
Carolina de Oliveira
The TV host became a social activist and mental health ambassador after being diagnosed with bipolar disorder six years ago.
DALIA SABRI
Dalia partially lost her sight as a result of a medical mistake when she was a child. She now works as a music teacher with plans to launch an orchestra for visually impaired children in 2017.
Natalia Ponce de Leon
A victim of a brutal acid attack, Natalia became a national icon after she changed the law penalising such attacks in Colombia.
JOSH QUIGLEY
After years struggling with depression and surviving a suicide attempt, Josh is currently cycling the world solo in a bid to raise awareness of mental health issues.
 11. Warwick Davis 
Warwick, who was born with dwarfism, is known for having played much-loved characters on film and stage. From ewok Wicket in Return of the Jedi to Griphook and Professor Flitwick in the Harry Potter series, he's also scheduled to appear in both of Disney's upcoming Star Wars reboots. But it's not all about the silver screen. Warwick will continue to host his game show in 2017 as well as working to his charity Little People, an online resource dedicated to providing support and information to people of short stature and their families.

10. Nicholas McCarthy
Born without his right hand, Nicholas was told he would never have a career in music. But after seeing a friend play Beethoven's Waldstein Sonata, 14-year- old Nicholas was determined to fulfil his dream of becoming a concert pianist. He became the only left-hand alone pianist to graduate from the Royal College of Music in its 130-year history and is an original member of the British Paraorchestra – performing alongside Coldplay at the London Paralympic Closing Ceremony back in 2012. Following the success of his debut album Solo, Nicholas will play at the Royal Albert Hall in March 2017.
9. DEEPIKA KURUP
The vast majority of disabled people worldwide are living in the poorest communities in low and middle-income countries, where poverty is both a cause and a consequence of disability, and a lack of access to water is a major issue. After being inspired by a trip to India, where she noticed a human need for the vital resource, 12-year-old Deepika began to develop a way to clean water with sunlight. Her initial idea won her the Discovery Education 3M Young Scientist award in 2012, and now in her second year at Harvard, she is working on her latest prototype.
8. Bella Hadid
The Victoria's Secret model may have the world at her feet – but Bella says that her picture perfect life doesn't always tell the whole story. Behind the scenes she struggles with the daily physical distress of living with Lyme disease— an illness that she shares with her mother, Yolanda, and her brother, Anwar. As the number of people with the disease continues to grow, Bella's openness about her own battles with the illness has become more crucial than ever before.
7. Nicolas Hamilton
Nicolas is the first disabled driver to compete in the Touring Car Championships. Nic, brother of Formula 1 World Champion Lewis, races in a specially modified car. Until a few years ago Nicolas, who has cerebral palsy, was using a wheelchair and unable to push 20kg. Now he pushes over 200kg and is part of Channel 4's F1 presenting team – and 2017 is set to be his best year yet.
6. SHAUN ROSS
As a black, gay male model with albinism, Shaun has struggled against prejudice and discrimination all his life. But he has helped to redefine beauty standards, starring in major fashion campaigns and featuring in music videos for the likes of Katy Perry and Beyoncé. The 23-year-old also initiated the In My Skin I Win movement, promoting self- acceptance.
5. Penny Pepper 
As a poet, author and disability rights campaigner, Penny knows a thing or two about challenging the status quo. She first came to our attention in 2012 following the release of her taboo-breaking book Desire Reborn and now her long- awaited memoir, First in the World Somewhere, will be published in autumn 2017, having received funding on the award- winning crowd funding publishing site Unbound.
4. MICAH FOWLER
It's hard to believe that in 2017, it is still rare to see a disabled actor on screen – fewer than 2% of actors on our TVs are themselves actually disabled and a shocking 95% of disabled roles are played by actors without disabilities. But Micah Fowler wants to help change all that. The 18-year-old star has won rave reviews for playing JJ – who, like him, has cerebral palsy – in the hit American sitcom Speechless. Through his acting he wants to encourage viewers to look beyond the physical limitations of disabled people.
3. Kadeena Cox 
Nominated for the BBC's Sports Personality of the Year, Kadeena Cox, who was diagnosed with multiple sclerosis two years ago, has had an incredible 2016. Picked to be GB's flag bearer at the Paralympic Closing Ceremony, she also became the first British star to win titles in two sports (cycling and athletics) at the same Games since Seoul 1988. In 2017 she'll be balancing a university degree alongside her work with Leonard Cheshire Disability, aiming to increase opportunities for disabled people to access sport.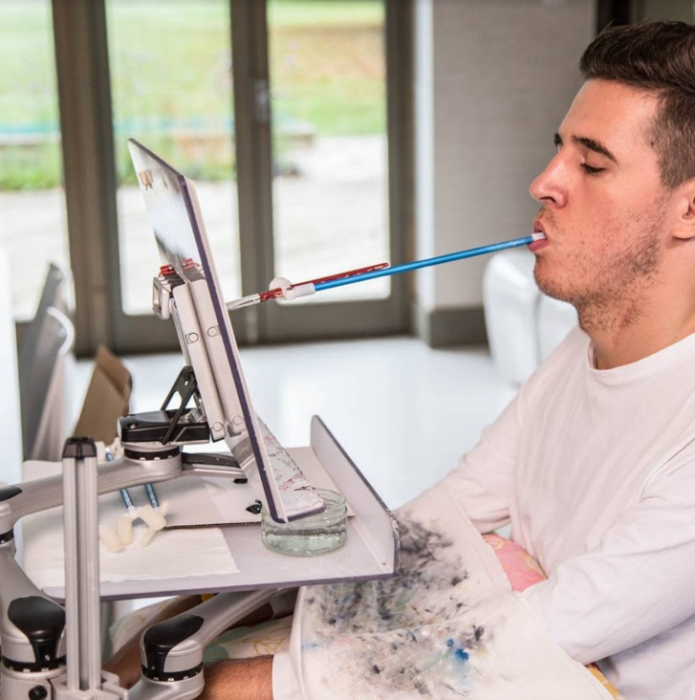 2. HENRY FRASER 
Fraser was a 17-year old sport fan on holiday with friends when a freak accident left him with a broken spinal cord and paralysed him from the shoulders down. While lying bed-bound last year, Henry taught himself to paint on his iPad by putting the stylus in his mouth. He is now a renowned mouth artist and motivational speaker, with A-list fans including Thierry Henry and JK Rowling.
And our number one World Changer?
1.  KATIE PIPER 
She's a survivor, philanthropist, author and documentary maker – there is no stopping Katie Piper. Number one on our World Changers List sits down with Enable's Kirsty McKenzie to chat about heroism, confidence – and why 2017 is set to be her most impressive year yet. Read the full interview here. 
What do you think of our list? Let us know on Twitter! 
PICS: © BBC; PAUL MARC MITCHELL; INSTAGRAM/BELLA HADID; EDWARD COOKE FOR COMPLEX UK; TWITTER/PENNY PEPPER; ABC/BOB D'AMICO; JAMES BROOME PHOTOGRAPHY