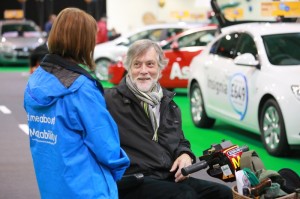 Following a record breaking summer of One Big Day events, we are pleased to announce we will be returning to Manchester's EventCity for our flagship show, 'The Big Event' on 8 and 9 May 2015. The free, two-day event is the UK's biggest display of vehicles for disabled people and kicks off a series of regional One Big Day events taking place across the country next summer.
The Big Event and the regional One Big Day events offer disabled people the chance to find out more about the range of cars, scooters and powered wheelchairs available to lease through the Motability Scheme. Visitors can test drive a wide selection of cars, talk to Motability Scheme advisors and gather a range of helpful information, while enjoying a great day out with their friends and families.
The 2014 series of events attracted over 21,000 visitors in total; making it the most well attended series of One Big Day events since they started in 2007. Events took place across the country including Yorkshire, Derbyshire and Kent; as well as the first event of its kind in Belfast, Northern Ireland.
Luke Snowden, One Big Day event manager at Motability Operations, said:
"The Big Event at Manchester's EventCity was a great success and we saw our visitor numbers top 6,500 for this event alone. We are so excited to be returning for The Big Event next year and hope to welcome even more people in 2015. Our aim is to provide disabled people and their families a chance to explore all their motoring options in one accessible location whilst having a fun day out too."
In the coming months we will be announcing the full details of the 2015 One Big Day event programme on our website at motability.co.uk/events and on the 'Motability Events' Facebook page, where you can keep up to date with the latest One Big Day announcements and view pictures and videos from previous events.
For more information on leasing a car, scooter or powered wheelchair through the Motability Scheme, visit motability.co.uk or call 0800 953 7000.