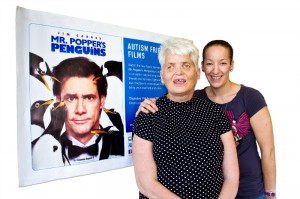 Showcase Cinemas has partnered with Dimensions, a not-for-profit organisation which supports people with autism and learning disabilities, as part of the organisation's Autism Friendly Screenings initiative.
The screenings will launch at Showcase Cinemas nationwide on Sunday 10th November with the animated Cloudy with a Chance of Meatballs 2 at 10am, and continue every second Sunday of the month.
Guests and their carers will be able to enjoy the latest releases in a tailored environment that will feature lower sound levels and increased lighting to enable people to move around freely during the film. Adverts will also be omitted and there will be a designated break area outside of the screening as well as clear signage to highlight relevant information and locations within the cinema.
Lisa Hopkins, Executive Director of Practice Development at Dimensions said the screenings are an element of the organisation's focus to provide more inclusive environments for guests with autism, allowing people to experience the cinema in surroundings more conducive to their needs. Lisa adds:
 "I am pleased to welcome Showcase Cinemas on board to extend this important and successful project even further. More than 60,000 visits to Autism Friendly Screenings have now been recorded – it's really exciting and encouraging that they have been so well received. Not only that, the screenings continue to gain support from national cinema chains, which shows that there was a need to introduce such environments.
"People who can sometimes be excluded from the traditional cinema experience, because they may find the sensory experience too difficult to manage, are now able to watch a wider variety of films, more frequently, in an environment conducive with their needs. These opportunities are important stepping stones towards full inclusion in mainstream cinemas,"
Claire Lockwood, her husband and daughter Jodie have been going to the screenings since they first started at the other cinema chains. She Said: "The AFS are wonderful. When I first went I couldn't believe how relaxed the atmosphere was. Jodie jumps up and down in her seat and laughs when she's excited so it's great she can do that and we don't have to discourage her.
"She really loves it and it's good to find something she enjoys. Because she's had good experiences she knows what to expect when we say 'cinema'."
Julian Carr, Chief Executive of Theatre Operations at Showcase, said: "We are broadening our appeal in the wider local community by providing a tailored service to heighten the viewing experience currently on offer, and to ensure that those who might not normally feel comfortable in the traditional cinema environment can come along and enjoy the latest films."
Showcase Cinemas currently has 20 cinema locations across the UK including three Cinema de Lux venues at Bristol, Derby and Leicester which feature the exclusive Studio One restaurant.
For more information about Autism Friendly Screenings, please visit www.dimensions-uk.org/autismfilms, or alternatively follow Dimensions on Twitter @DimensionsUK
Tickets are available now from the box office and also available online at www.showcasecinemas.co.uk
Autism Friendly Screenings have sound levels turned down, the lights left up at a low level and film-goers are able to make noise and sit where they feel comfortable. A full list of participating cinemas and details regarding locations, facilities and accessibility can be found at www.dimensions-uk.org/autismfilms.

Dimensions is a leading specialist not-for-profit provider of support for people with autism and/or learning disabilities. It supports about 3,000 people in England and Wales. For more information go to www.dimensions-uk.org