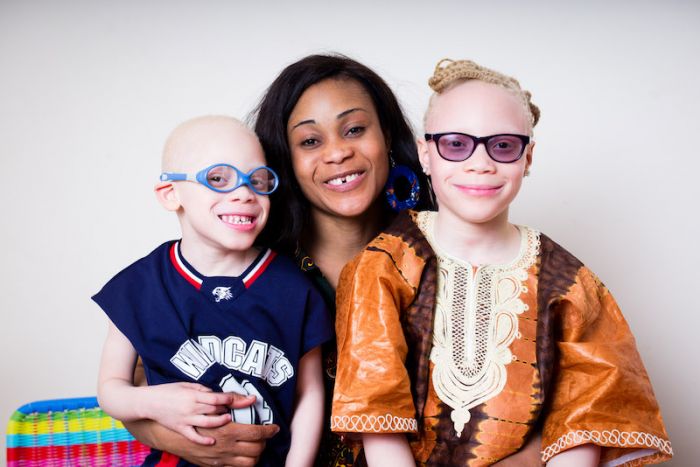 Mum of two Precious tells us why she's supporting this year's Jeans for Genes Day
Before giving birth to her first child, Precious knew very little about albinism. The genetic disorder, characterised by the complete or partial absence of pigment in the skin, hair and eyes, also causes vision problems, nystagmus (continuous uncontrolled movement of the eyes) and photophobia – an extreme sensitivity to light.
It was during delivery that daughter Angel's condition was realised. Precious explains: "When I was in hospital giving birth to Angel, I was pushing and the midwife started to say, 'Oh don't push, I'm not sure what's coming out, I think it might be the placenta.'
"When she was born they gave her to me. Holding Angel, I was wondering if she was my baby, but she came out of me so she must be. But me and my husband are both so dark, so how was she so light?"
DIFFICULTIES
Precious, who is Liberian, says she faced some difficulties dealing with her daughter's condition, which weren't helped by relatives on her Nigerian husband's side making accusations that the baby's father was white, hence her daughter's white skin, blonde hair and grey eyes.
She explains: "I went into depression for a year, I just didn't know what to do. One day I went to hospital and said 'Why do I have this baby?' and they explained that me or my husband must have the gene. I booked a hospital appointment for us to have genetic testing but he wouldn't do it. He said he didn't have a faulty gene, it was a curse."
This type of thinking is unfortunately common in African communities – and that's why Precious decided to do something to spread the word.
REACHING OUT
Along with Angel, eight, Precious, has a son, Moses, four, who also has the condition.
"I needed to find other people who had albino children who needed help and support," she explains. "There's a real stigma about albinism in Africa and that's why I decided to do what I do. I go to other African people's houses and advise them how to care for their children."
Expressing gratitude to The Albinism Fellowship, who have been her 'rock', along with the Second Voice awareness project that she is a member of, Precious says she is proud to help others – and it seems to have inspired daughter Angel as well. Precious adds: "Angel told me recently she wanted to be the Mayor of London when she grows up. She said she wanted to change people's lives with albinism."
Jeans for Genes Day is on Friday 23 September, and everyone is invited to wear their jeans to work or school in return for a donation. Funds raised go to Genetic Disorders UK, which supports a range of charities including Albinism Fellowship. Sign up for your free fundraising pack at www.jeansforgenesday.org.