If you want to move house, why not build your own? Scandia-Hus stop by to tell us about their adaptable, personalised approach to housing design…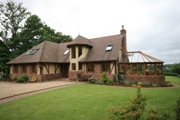 Scandia-Hus has been designing and building bespoke timber frame homes for customers throughout the UK for nearly forty years. We have a wealth of experience at our disposal and have a reputation for combining the benefits of advanced Swedish Technology with the best of traditional British architectural style and building craftsmanship. Also of benefit to both the customers and ourselves is having our own factory in Sussex, Scandia-Hus Manufacturing Limited. To be able to produce our own homes 'in-house' means we have greater control over the quality of the finished product.
Our homes are beautiful, individual and extremely energy efficient. We have a range of styles to choose from ranging from bungalows to chalets, barns to traditional and contemporary glass-fronted homes.  In addition to houses we also offer a range of outbuildings such as garages and commercial buildings including sports pavilions and medical centres.
At Scandia-Hus we understand that customers may need to adapt the design and internal layout of their home to suit their current and future requirements whether this is due to the family growing, change in health or a disability. Early in 2013 one of our customers built a chalet style bungalow where the finished floor level is level with the outside ground level, thus allowing easy level access for a wheelchair user at all exits and entrances. Our houses can be designed to accommodate your individual needs.
Reassuring to people who choose to invest in a Scandia-Hus energy saving home is that our project managers will work closely with them and will be pleased to help choose the right options that suit that individual customer the best.
In addition to talking one on one to a project manager we also offer free seminars at our office in East Grinstead, West Sussex. The seminars cover all aspects of the process of self-build from plot finding to design, obtaining planning permission, budgets and timescales.
For further information on Scandia-Hus please visit www.scandia-hus.co.uk, telephone 01342 838060 or alternatively email sales@scandia-hus.co.uk.