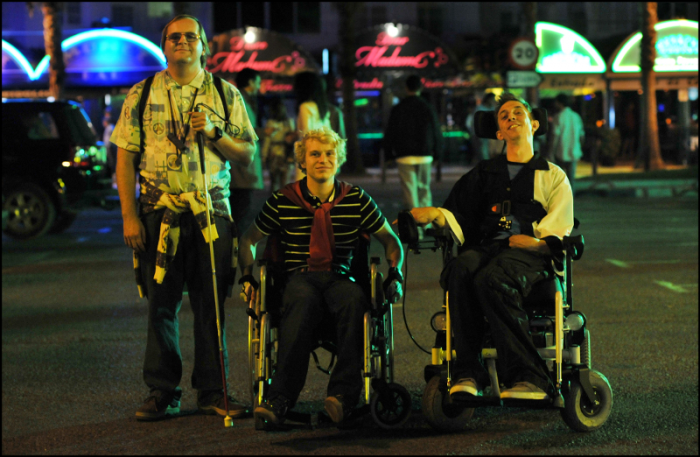 A touching, heartfelt story based on true events about the desire to achieve independence, Come As You Are offers a refreshing take on disability and limitless achievements.
Don't let the fact the film is subtitled put you off, as you'll soon be swept up in the story too much to mind.
Come as You Are is the tale of three testosterone-filled twenty-something's, Lars (Gilles De Schryver), Phillip (Robrecht Vanden Thoren) and Jozef (Tom Audenaert) – each of them is disabled. Determined not to let blindness, paraplegia or an inoperable brain tumour stand in their way, the three friends decide to embark on a journey around Europe to experience life, and with any luck – lose their virginities while they're there.  Only one thing stands in their way – their parents. Initially reluctant to let their children complete their plans, the parents of all three eventually agree, but demand a nurse accompanies them. The boys oblige to the demand, and so we meet Claude (Isabelle de Hertogh), a French speaking district nurse and tour bus driver. As the story unfolds, it offers us an equal serving of touching, humorous moments, as well as those uncomfortable ones that are often difficult to watch. We see the three friends battle to overcome hurdles presented by their disabilities, work together and find themselves as they attempt to make the trip of a lifetime worth every minute.
Travelling through France and into Spain to find a mythical brothel full of beautiful women, the friends discover the expedition they have set out on isn't as easy as first anticipated and they need a great deal more help from their nurse than they had initially presumed. Lars struggles to cope with his worsening brain tumour whilst Phillip learns some tough lessons about thinking of others before himself. Blind Jozef, however, discovers he might have found love before the trio have even reached the brothel.
The actors playing Lars, Phillip and Jozef are not disabled in real life yet give incredible, convincing performances in the movie. The film tackles issues around sex in a tasteful and realistic way, successfully pulling off a combination of compassion and humour. Themes of restriction, limitation and constant dependence are dealt with throughout as the characters push themselves to the limits of what they can do on their own, without the constant care of their protective parents.
Without being patronising or insensitive, the film brilliantly portrays the ups and downs of striving to be independent and self-sufficient as a disabled person. The Finnish movie has enjoyed a great deal of well deserved success in Europe, winning the People's Choice Award at the European Film Awards and it is bound to do well when it is released in the UK next month. Come As You Are is a must-see this year, just make sure you have your tissues at the ready as you're swept along for the ride.
Come As You Are will be released in the UK on 6 June.