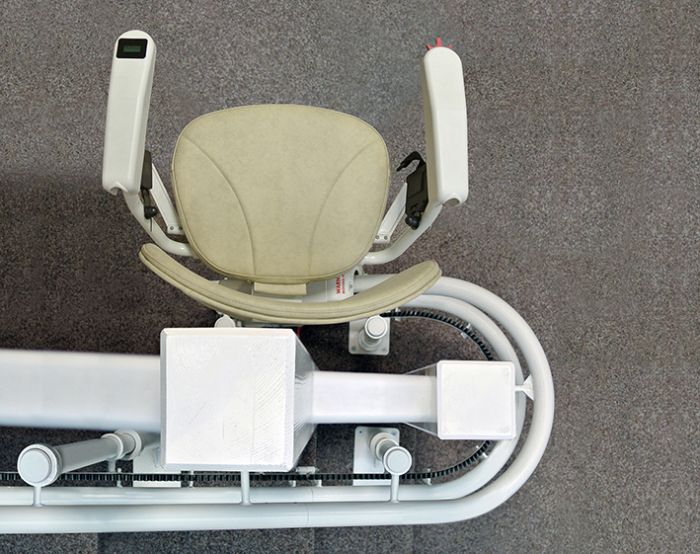 The Platinum ERGO is the revolutionary stairlift seat featuring fully adjustable arm and seat pad positions to allow it to be uniquely configured to each user. This month, Platinum unveil the innovative new Space seat, an upgraded option which can be added to any ERGO seat order.
The compact ERGO Space seat from Platinum Stairlifts provides an extra 50mm of space compared to the standard ERGO seat, allowing stairlifts to operate on thinner staircases. When combined with the ERGO Plus seat pad, the Space seat can reduce the operating area by a further 25mm, a total space saving of 75mm.
The ERGO Space back rest is 80mm shorter than the standard ERGO seat with reduced thickness. This stops the user's shoulder blades from coming into contact with the seat, and allows them to sit in a more comfortable, upright position.This in turn means that the user's back is closer to the wall, bringing their legs, knees and feet closer to the carriage and reducing the space needed for the chair to travel up the stairs.
By positioning the chair closer to the wall, an ERGO Space equipped lift is able to operate on tighter corners than with the standard seat. Tighter corners reduce the area the track uses and allow for more space both on the stairs and at the top and bottom where the chair may be parked on a curve. Featuring a smaller profile than the standard ERGO seat, the Space seat also reduces the stairlift's visual impact on home decor.
The ERGO Space Seat – a smaller, more comfortable chair, freeing up a larger, more usable space in your home. Less is definitely more.
The ERGO Space Seat is available now – ask your stairlift dealer for details.
To find out more about the ERGO Space Seat from Platinum, visit www.platinumstairlifts.com/platinum-ergo-space-seat/