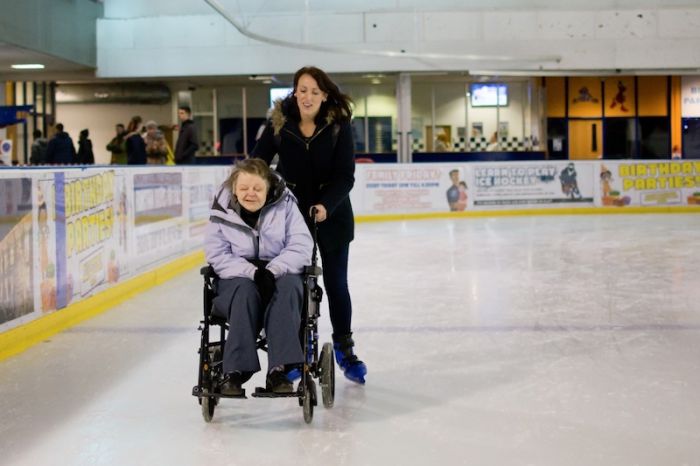 The ice skating sessions aim to get more disabled people in England into physical activity and sport
The programme is being funded by Sport England and is one of a number ofactivities to be run by the disability charity, Sense across the country
National disability charity, Sense has partnered with Centre404, a charity that supports people with learning difficulties, to develop a programme of ice skating sessions accessible for people with sight and hearing impairments and those with complex needs.
Two free taster sessions will be held from 12.00 until 13.00 on the 22nd February and 1st March at Sobell Leisure Centre in Islington.
The programme, designed for individuals aged 14 and over with sight and hearing impairments and those with complex needs, has been made possible following a grant of £424,958 from Sport England which was awarded to Sense to increase opportunities for people with deafblindness to participate in sport and physical activity through its 'Sporting Sense' project.
London is one of the areas that the project will focus on, with Sense delivering a number of activities across the region from now until May 2018.  The project will influence the development and delivery of local physical activity plans, which will include working alongside deafblind people.
Taylor Huxster, Regional Sports Coordinator at Sense said:
"Participation in sport has significant physical, mental and emotional benefits, but unfortunately people with sight and hearing impairment encounter barriers accessing it. We want to offer people opportunities in various sports and activities that they may never have had access to or even thought they were able to participate in, and Ice Skating is a perfect example of this.
"Ice skating offers an amazing array of different sensory experiences for those with sensory impairments. The acoustics of the ice rink, the cool temperature and the sensation of smoothly skating, or being pushed in a wheelchair over the ice are all very unique sensory experiences."
The charity is hosting two free taster sessions at the Sobell Leisure Centre on the 22nd February and the 1stMarch at 12.00 until 13.00. Parents, families and carers are welcome to attend. From 8th March onwards during term time, sessions are £7.50 to attend and take place 11.00 until 12.00 every Wednesday at Sobell Leisure Centre, Hornsey Road, London, N7 7NY.
For more information or to book a place, those who wish to attend should get in touch with the Taylor Huxster at taylor.huxster@sense.org.uk or call 020 7014 9365.
About Sense

Sense is a national charity that supports people who are deafblind, have sensory impairments or complex needs, to enjoy more independent lives. Our expertise in supporting individuals with communication needs benefits people of all ages, as well as their families and carers. We provide information and advice, offer a wide range of flexible services and campaign passionately for the rights of the people we serve. Find out more at www.sense.org.uk