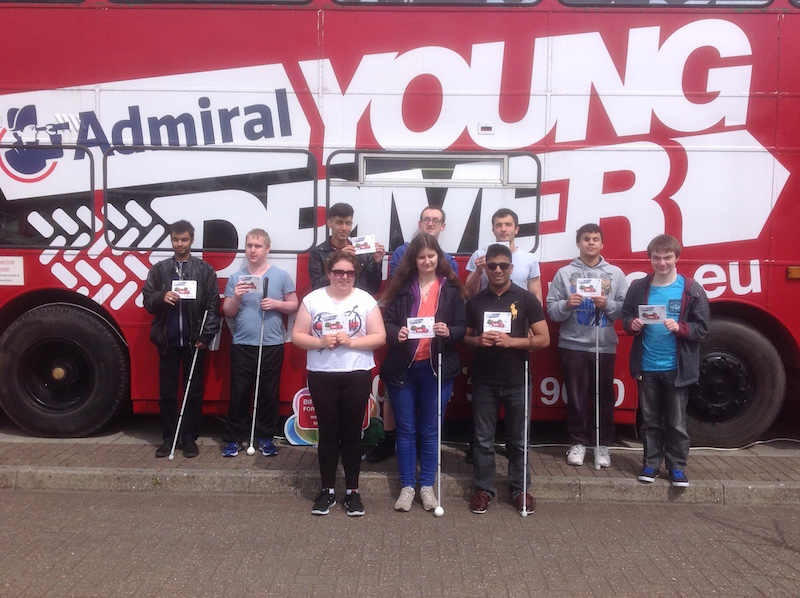 Lessons take place at Bristol Cribbs Causeway
A group of youngsters who are blind or partially sighted were given the opportunity to experience driving for the first time at a special event held at Bristol Cribbs Causeway.
Young Driver offers driving lessons to anyone aged 11 and over – including those with disabilities, which may mean they will never be able to legally drive on the roads. Because Young Driver lessons take place on private property, normal restrictions do not apply.
A group of 10 young people aged 18 to 25, from the charity Action for Blind People, got behind the wheel in dual controlled cars. They manoeuvred through the mock road system, navigating obstacles and other traffic, trying their hand at parking and practising changing gears, all with the assistance of fully qualified instructors.
The activity was a part of a National Transition Week, funded by the Big Lottery.
Nicholas Malson, Action for Blind People's Transition Coordinator for the South West Region, said: "It's my job to help the youngsters I work with build their self-confidence and to work towards independent and fulfilling lives. It can be so difficult when all your peers start something new and you can't join in – and driving is very much like that. Just because these youngsters have very limited or no sight, doesn't mean they can't try driving from a practical perspective, with the proper help and support – it just means it wouldn't be legal to do so on the roads. It means so much for them to be able to experience what driving is like for themselves and to be able to then talk knowledgeably with sighted friends who may be learning. Some of them were quite nervous beforehand, but they all had a fantastic time. It's all they've talked about since and we're already planning another visit!"
Kim Stanton from Young Driver added: "Young Driver can be an opportunity for those who thought they may never get to experience driving, to give it a go. The fact that the lessons take place off-road means that it opens up the experience to people with a wide range of disabilities. We work with people with all kinds of disabilities including those who are deaf, have prosthetic limbs, are in wheelchairs, or have learning disabilities or neurological disorders. At four venues we have automatic/adapted vehicles with hand controls for those who may need them.  It can really help build self confidence for someone to be able to give it a try in a safe and supportive environment. And of course, it's also great fun!"
Young Driver was set up in 2009, and has now given more than 200,000 lessons at 35 venues across Britain. As well as offering the chance to try driving to those who may not otherwise have the opportunity to experience it, the scheme also aims to reduce the high number of accidents involving newly qualified drivers by teaching youngsters from an earlier age and over a longer period of time. On average, one in five currently crash within six months of passing their test, as opposed to one in 10 Young Driver past pupils.
For more information visit www.youngdriver.eu or call 0844 371 9010.  For more information about Action for Blind People visit www.actionforblindpeople.org.uk