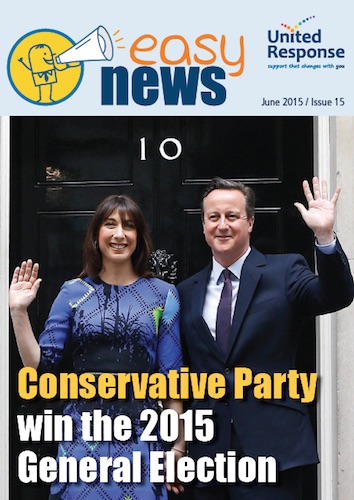 The national disability charity, United Response, has published the latest edition of Easy News, with details of a range of news stories set in an easy read format.
The publication features news including the results of the General Election, the earthquakes in Nepal and the birth of Princess Charlotte.
Easy News was launched in 2013 with a view to giving people with disabilities the opportunity to find out what is happening in the world in order to gain a greater understanding of current affairs and how politics affects our daily lives.
An award-winning news magazine, Easy News is translated into an easy read format, which uses simple words and explanatory images to illustrate stories, by a team of people with learning disabilities and/or autism known as UR Consultants.
In recent months, the magazine has supported Every Vote Counts, a major campaign by the charity designed to make politics accessible to all and to encourage all of the main political parties to commit to publishing easy read manifestos.
Following the election, this latest edition has summarised the results and simplified complex language to ensure that people with learning disabilities and mental health needs can better understand the voting process and its outcomes.
While the magazine aims to share information to support people to vote, it also seeks to keep them informed in between elections, empowering them to take part in national debate and learn more about news and politics and how it affects them.
Diane Lightfoot, Director of Policy & Communications at United Response, said: "The new edition of Easy News is a credit to our consultants, who have followed and translated complicated coverage to create smooth but meaningful news stories.
"United Response is committed to ensuring that people with learning disabilities and mental health needs are considered by the Government as part of any changes that may affect them and empowering this disenfranchised group to learn more about politics and current affairs is an important part of realising that aim."
To download the 15th edition of Easy News, click here.
United Response is a community based charity that works with people with learning disabilities, mental health needs or physical disabilities- including some of the most vulnerable people in our society. Our vision is of a society where disabled people are equal participants and have access to the same rights and opportunities as everyone else. To find out more about the work of United Response, please visit: www.unitedresponse.org.uk